Obama presses Mubarak for transition to democracy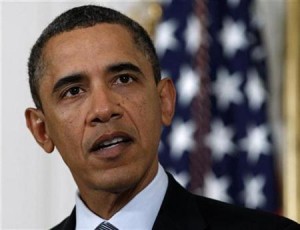 US President Barack Obama on Sunday urged an "orderly transition" to democracy in Egypt, stopping short of calling on President Hosni Mubarak to step down but signaling that his days may be numbered.
Seeking to ratchet up pressure on Mubarak, Obama consulted with the leaders of Saudi Arabia, Turkey, Israel and Britain on the need for an Egyptian government responsive to its people.
The Obama administration's blunt words marked the furthest Washington has distanced itself from Mubarak, a key U.S. ally of 30 years who has been severely weakened by six days of mass protest aimed at ending his long autocratic rule.
Secretary of State Hillary Clinton also kept up Washington's delicate balancing act, trying to avoid abandoning Mubarak altogether while supporting protesters who seek broader political rights and demand his ouster.
Making the rounds the Sunday U.S. news shows, Clinton said Mubarak must ensure coming elections are free and fair and live up to his promises of reform, and that the process should be carried out to prevent a power vacuum that could be filled by extremists.
While Clinton repeatedly dodged questions about whether Mubarak should resign due to the political upheaval, she appeared to suggest the U.S. administration's patience with him was wearing thin and added to pressure on him to loosen — if not eventually relinquish — his grip on power.
"We want to see an orderly transition so that no one fills a void, that there not be a void, that there be a well thought out plan that will bring about a democratic participatory government," Clinton told "Fox News Sunday" on the sixth day of mass protests against Mubarak's rule.
Echoing Clinton's language, the White House said Obama spoke over the weekend to Saudi King Abdullah, Turkish Prime Minister Tayyip Erdogan, Israeli Prime Minister Benjamin Netanyahu and British Prime Minister David Cameron'
"The president reiterated his focus on opposing violence and calling for restraint; supporting universal rights, including the right to peaceful assembly, association and speech; and supporting an orderly transition to a government that is responsive to the aspirations of the Egyptian people," the White House said.
A senior administration official said the feeling among Obama's national security aides was that Mubarak's time had passed, but that it was up to the Egyptian people to decide their future. Obama believed the United States could not insert itself into the situation because any such move could backfire, the official added.
RISK OF POWER VACUUM
Clinton also alluded to concerns about who might follow Mubarak. U.S. officials have privately voiced fears that radical Muslims could take power. "We also don't want to see some takeover that would lead not to democracy, but to oppression," she said.
Even as Washington has taken a more assertive stance, Clinton signaled the administration was not ready to use its most tangible leverage with Cairo — the $1.5 billion in annual U.S. aid, the vast majority of which is for the military.
"There is no discussion as of this time about cutting off aid," she told ABC's "This Week," though she quickly added "we always are looking (at) and reviewing our aid."
The U.S. administration was caught off guard by the political upheaval that has rocked the Middle East in recent days, from Egypt to Tunisia to Lebanon to Yemen, and is now scrambling to craft a sound strategy.
Reuters