Hezbollah pays tribute to Egyptian protesters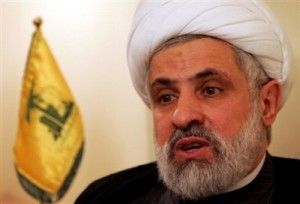 The Iranian and Syrian backed Hezbollah, a strong critic of Egyptian President Hosni Mubarak and his ties with Israel, saluted on Monday protesters who are "combating and resisting" the Egyptian president.
"We should pay tribute to the proud Egyptian people for their combat and resistance by their rejection of normalizing relations with Israel and for their aspiration to freedom, independence and dignity," Hezbollah Deputy Secretary General Naim Qassem said in a statement.
Hezbollah angered Mubarak by accusing Egypt of complicity with Israel during the Israeli offensive in the Gaza Strip in late 2008.
In 2010, Egyptian courts sentenced 26 people for allegedly planning attacks on behalf of Hezbollah. The arrests strained relations between predominantly Egypt, and Hezbollah's backer, Iran, with Cairo accusing Tehran of using the movement to gain a foothold in Egypt.