Egypt's Mubarak names first VP in 30 years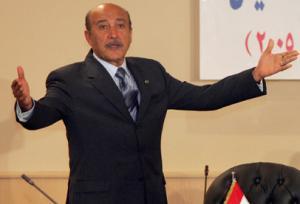 Egypt's president Hosni Mubarak has named intelligence chief Omar Suleiman as his first ever vice-president as he struggles to regain control of the country.
Mr Mubarak had promised an overhaul of his administration and has given the task of forming a new government to former aviation minister Ahmed Shafiq, who is now prime minister.
But tens of thousands of protesters remain on the streets in Egypt defying a curfew and army warnings.
Central Cairo is a picture of anarchy for yet another night. Egyptian police, who were the target of angry mobs the night before, have all but abandoned the streets and the army is present only in small numbers.
Thousands of Egyptians have filled Cairo's Tahrir Square and say they will not leave until the Mubarak regime is gone.
Demonstrators clashed with security personnel outside the interior ministry and there are reports of casualties.
The Egyptian leader has now sacked his government and appointed a new one, but many Egyptians say that it is not the result that they want.
They are demanding Mr Mubarak's own resignation and free and fair elections for the first time in decades.
Opposition leader Mohammed ElBaradei says dismissing the cabinet is not enough to end a revolt against Mr Mubarak's rule.
"He either didn't get the message, [or] if he got the message and pretended he hadn't heard the Egyptian people, then it's an insult to the intelligence of every Egyptian, an insult to a legitimate demand," he said.
In all, at least 62 people have been killed since violence began on Tuesday. Both protesters and police are among the dead.
Eyewitnesses say live rounds have been used in clashes in Alexandria.
New VP
State television showed images of Mr Suleiman, an army lieutenant general, saluting his close friend Mr Mubarak after taking the oath of office.
Mr Suleiman has been labelled the most powerful spy chief in the Middle East, and the sharply dressed and well-groomed general was for years a highly enigmatic figure for the world at large.
He is a trusted talks partner for both the United States and Israel, and has orchestrated a series of albeit short-live truces between Israel and the Palestinians over the last 10 years.
In 1995, Mr Suleiman advised Mr Mubarak to ride in an armoured car during a visit to Addis Ababa that shielded him from the fire of Islamist gunmen which killed the car's driver.
During the 1990s and following the botched Ethiopian assassination attempt, Mr Suleiman joined the efforts of the CIA and other foreign intelligence agencies to crack down on Islamists, at home and abroad.
He also proceeded to target homegrown radical Islamist groups Gamaa Islamiya and Jihad after they carried out a string of attacks on foreigners that hit Egypt's vital tourism industry hard.