Protesters tell Yemeni President to quit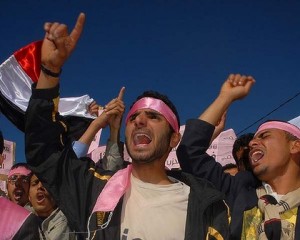 Thousands of people took to the streets of the Yemeni capital, calling for an end to the reign of the President, Ali Abdullah Saleh, in some of the biggest anti-government rallies Yemen has seen for a decade.
Spurred by events in Tunisia and Egypt, students and opposition activists assembled at four points across the capital on Thursday chanting for Mr Saleh to quit after 32 years in power.
"It's over, Saleh, your time is up!" shouted a crowd of students, rattling the gates of Sanaa University.
Advertisement: Story continues below
"Look at Tunisia with pride," the crowds chanted. "Yemen has strong people, too."
The protests were organised by Yemen's opposition coalition, which includes the Islamist party Islah, as well as the Socialist and Nasserite parties.
However, unlike protests last weekend in Sanaa when riot police used tear-gas and batons to disperse protesters, a relative calm and an almost carnival-like atmosphere prevailed.
Protesters shut down streets, sang songs and shouted patriotic slogans, as soldiers and riot police wearing helmets and carrying batons and shields watched. Security was tight around the capital.
Protesters are demanding improvements in living conditions as well as political reform.
Yemen, the poorest country in the Arab world, is struggling with rising unemployment and dwindling oil and water reserves. Almost half its 23 million people live on $US2 or less a day. One-third suffer from chronic hunger.
Al-Qaeda militants are using Yemen as a base to target the West and its allies. In addition to the threat they pose, the weak government is grappling with a rebellion in the north and a secessionist movement in the south.
In one protest, a group of 3000 men gathered outside the house of Abdullah al-Ahmar, the former leader of Islah. "We are here to say, 'Enough, enough, the President should go,"' Mohammed al-Sabri, a leading opposition figure, told the crowds.
About 15,000 students and activists wearing pink ties on their heads formed a "human wall" at Sanaa University, which has become a hub for the protests.
"We choose pink to represent the Jasmine Revolution and to show that we do not want violence," said Rudhwan Masude, the head of the student union at the university.
The rallies followed several days of smaller protests calling for Mr Saleh to quit. Tensions boiled over on Sunday when plainclothes officers arrested Tawakul Karman, an activist who helped organise the protest.
Ms Karman was freed on Monday with a pledge from her family that she would "no longer offend public order and law".
Nasser Araybee, a Yemeni journalist with the weekly al-Ahram, said: "This is only the start of a fierce political battle in the run-up to Yemen's parliamentary elections in April."
Earlier this month Yemen's parliament gave preliminary approval for a constitutional amendment ending limits to the president's term of office, a measure that would allow Mr Saleh to stay in power past his mandate, which ends in 2013.
Mr Saleh's ruling General People's Congress staged counter marches across the capital on Thursday, attended by hundreds of government supporters.
In an attempt to defuse tensions Mr Saleh has recently raised army and civil servant salaries, and denied opposition claims he plans to install his son, Ahmed, as his successor. smh