Murr: My son and I are not ministerial candidates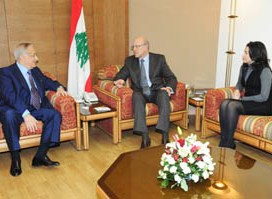 MP Michel al-Murr said on Thursday following his meeting with Prime Minister-designate Najib Mikati, that his son caretaker Defense Minister Elias al-Murr does not want to be a minister again.
"Neither I nor my son is a candidate for a ministerial position. I made this clear." Murr said
"If the new cabinet is formed of political technocrats or if it is a technocratic cabinet, I will grant it my vote of confidence. What is important is that it does not represent one party only because in such a situation I will not grant it my vote of confidence."
Elias Murr represents Lebanese president Michel Suleiman in the outgoing cabinet
Murr, who was accompanied by MP Nayla Tueni, also said that he is an independent MP.
"Citizens can no longer tolerate the situation [when it comes to recent economic issues. We voiced hope that Mikati forms a cabinet quickly to save the country from a dilemma."
When asked on his thoughts about the Future bloc's requests to Mikati, Murr said "I do not think Mikati will respond such requests ."
The Future Movement MPs asked Mikati to clarify his stance on the Special Tribunal for Lebanon (STL) and the illegal weapons ( Weapons outside the control of the Lebanese army) , MP Fouad Siniora said on Thursday after the bloc met with Mikati for consultations on cabinet formation.
Mikati, backed by Hezbollah and its March 8 allies , was appointed Tuesday by president Michel Suleiman as PM-designate to form ano defeatd head the next cabinet , giving Hezbollah and its allies increased leverage in the country and provoking widespread protests.
Hezbollah brought down Hariri's government on January 12 over the Special Tribunal for Lebanon's ( STL) indictment which is widely expected to implicate Hezbollah members in the assassination of former PM Rafik Hariri in 2005 .