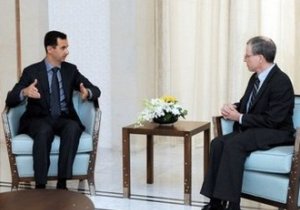 U.S. Ambassador to Syria Robert Ford presented his credentials Thursday to Syrian President Bashar Assad, Damascus said.
Assad accepted Ford's credentials Thursday in a ceremony attended by Syrian Foreign Minister Walid al-Moallem and Minister of Presidential Affairs Mansour Azzam.
Assad wished the new envy success in his mission, the official Syrian Arab News Agency reports.
A career diplomat and former Iraq point man, Ford was named in a December recess appointment as the U.S. envoy to Damascus. The White House noted his appointment had been waiting for U.S. Senate action since February 2010.
U.S. Republican lawmakers protested the Ford nomination in part because of Syria's alleged role regarding Hezbollah and Scud missiles in Lebanon.
Hezbollah two weeks ago helped bring down the Lebanese government of Saad Hariri in part because of opposition to an international tribunal investigating the 2005 assassination of Saad Hariri's father, former Lebanese Prime Minister Rafik Hariri.
Lebanese Prime Minister Najib Mikati, who had backing from Hezbollah, is forming a new Cabinet that is weighing whether to continue supporting the tribunal, which handed over a sealed indictment just days before Hezbollah led the Hariri downfall.
Ford's ceremony coincided with a visit to Damascus by British Foreign Secretary William Hague, who met with Syrian leaders to discuss the political situation in Lebanon. UPI