U.S. targets Lebanese-based drug, money laundering network
The U.S. Treasury Department said on Wednesday it was targeting a Lebanon-based drug trafficking and money laundering network suspected of doing as much as $200 million a month in business.
The Treasury's Office of Foreign Assets Control said it was labeling Ayman Joumaa, as well as nine people and 19 entities connected with his organization, as Specially Designated Narcotics Traffickers.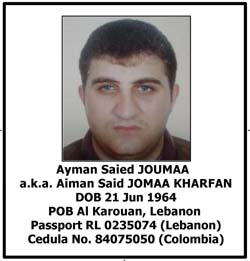 The action means U.S. citizens are prohibited from any commercial or financial dealings with the people or entities and that any of their assets found in the United States can be seized.
The Treasury said Joumaa coordinated the transportation, distribution and sale of shipments of cocaine from South America, laundering the money in Europe and the Middle East.
It said the group operated in Lebanon, West Africa, Panama and Colombia and had laundered as much as $200 million per month through various channels.
The Treasury's action was taken under the so-called Kingpin Act that aims to disrupt foreign narcotics traffickers by preventing them from gaining access to the international financial system. Reuters, US Treasury