Lebanon consultations Day one: Mikati 59 , Hariri 49 votes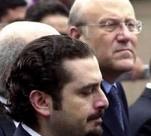 The results of the first day of consultations over the selection of of the new prime minister who will lead Lebanon next government are in: 59 MPs voted for Mikati while 49 only voted for Hariri , sparked a public outcry.
Caretaker PM Saad Hariri said "that all the talk of a compromise candidate is an attempt to throw dust in the eyes…. there is no such thing as consensus candidate ….. there is a candidate named Hariri, another candidate that is backed by March 8 and the choice in this area is very clear and unambiguous"
Hariri said the Future Movement will refuse to participate in any government headed by the candidate of March 8 stressing that the period preceding the indictment in the assassination of martyr Prime Minister Rafik Hariri is one thing and the period that follows will be something else, and what is before the parliamentary consultations is something, and what is after the consultations is something else.
Lebanese president Michel Suleiman will reportedly refuse to sign off on any one color cabinet that is not a national unity government .
Demonstrations in support of Hariri rocked the country on Monday in Beirut as well as in and around the northern city of Tripoli and in the southern city of Sidon after parliamentary consultations revealed that Hezbollah appeared to have secured the support from a majority of parliament to nominate its candidate former PM Najib Mikati for prime minister, putting the Iranian-backed militant group in position to control Lebanon's new government.
MP Walid Jumblatt who had the decisive vote backed Mikati . He emerged from talks with President Michel Suleiman at Baabda Palace, announcing the end of his Democratic Gathering parliamentary bloc, after four MPs of his 11-member bloc decided not to back Hariri . Jumblatt said he was renaming his smaller bloc "The National Struggle Front."
The four other MPs of Jumblat's Democratic Gathering bloc that backed Hariri are: Marwan Hamadeh, Mohammed Hajjar, Fouad al-Saad, and Henry Helou .
Made in Syria
The Syrian leadership reportedly informed the envoys of Hezbollah and Amal of its decision to nominate Mikati Saturday night, according to local reports .
MTV reported last Saturday that Hussein Khalil, Hezbollah Secretary General Sayyed Hassan Nasrallah's political aide and MP Ali Hassan Khalil , Amal Movement leader Nabih Berri's political aide headed to Damascus , Syria secretly Saturday afternoon to meet with the country's officials.
According to reports the Hezbollah led opposition had requested Mikati to agree to implement a five-point plan before agreeing to Syria's decision to name him as their premiership candidate
The five point plan calls for:
1- Withdrawing the cooperation protocol between Lebanon and the Special Tribunal for Lebanon STL) .
2- Withdrawing the Lebanese judges from the STL
3- Halting the funding of the tribunal
4- Referring the false witnesses file to the Lebanese judiciary council
5- Bolstering Lebanese-Syrian ties