Hezbollah denies seeking control of Lebanon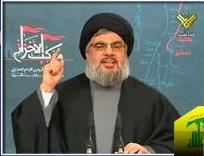 Hezbollah Secretary General Sayyed Hassan Nasrallah appeared on TV on Tuesday via video link and said that Lebanon should give Prime Minister designate Najib Mikati a chance, saying, "threats against Mikati will be useless".
He denied that Hezbollah is seeking to control Lebanon or impose an Iranian project, adding that such accusations are meant to provoke foreign powers, including the US and Israel, against Lebanon.
"The greatest lie is accusing Hezbollah of seeking to control the state." He said
Nasrallah attacked the West for supporting March 14 against March 8.
"Had the other camp's candidate been appointed, you would have heard condemnations from the West. " He said
He called for giving Mikati a chance to form a national unity government adding, where do you want to take the country if we don't give Mikati a chance to succeed ?
Nasrallah said that March 14's rejection to participate in the next cabinet would show that the alliance wants "to rule the country alone."
He accused March for 14 of conspiring against Hezbollah:
" You are the ones who led us to the internal scene, presented commitments to the U.S. against the Resistance, and brought on the July 2006 war against it and the STL". He said in addressing March 14 alliance and added :"Let us be killed through guns aimed at our chests and not our backs."
Day of anger
Protests continue to rock Lebanon. Thousands of angry protesters burned tires and blocked roads across Lebanon on Tuesday after Iranian and Syrian-backed Hezbollah secured the appointment of its candidate to lead the next government.
The protests were part of a "day of anger" called by supporters of Hariri to protest against Hezbollah which is funded and supported by Tehran.
The biggest protest took place in Mikati's hometown, the northern city of Tripoli where medical sources said 20 people were treated for injuries and protesters set fire to a satellite truck used by the Qatar based television channel Al Jazeera.
The nomination of Najib Mikati as prime minister, endorsed by President Michel Suleiman, is seen a victory for Hezbollah, which secured the parliamentary votes needed to wrest control of the Lebanese government.
Caretaker PM Saad Hariri said yesterday that the Future Movement will refuse to participate in any government headed by the candidate of the Hezbollah-led March 8alliance
He also said "that all the talk of ( Mikati being ) a compromise candidate is an attempt to throw dust in the eyes…. there is no such thing as consensus candidate"
Lebanese president Michel Suleiman will reportedly refuse to sign off on any one color cabinet that is not a national unity government , according to presidential sources, but Speaker Nabih Berri, Hezbollah Shiite key ally revealed that Mikati once officially designated will form a national salvation government instead of a national unity government, after the announcement of the Future Movement and the March 14 that they will refuse to join any government that is not headed by Hariri .