MTV: MPs Karami, Safadi to vote for Hariri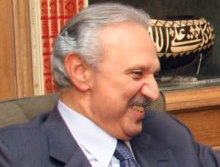 MTV reported that North Lebanon MPs Ahmed Karami and Mohammed Safadi will vote for Lebanon caretaker PM Saad Hariri, while MPs Najib Miqati and Nicola Fattoush are still mulling their choices.
Earlier today New TV reported that Tripoli MPs Mohammed Safadi, Najib Miqati, Ahmed Karami and Qassem Abdul Aziz will announce their decision concerning the parliamentary consultations tomorrow. The Pro Syrian station predicted that Miqati and Safadi won't vote for Hariri.
Earlier today also MP Mohammed al-Hajjar a member of the Democratic Gathering parliamentary bloc which is headed by MP Walid Jumblatt, told OTV : "The Hezbollah-led camp, which wants to impose a premier on the Lebanese, may decide to postpone the parliamentary consultations."
According to observers if the report is true this can only mean that March 8 alliance is not sure that Jumblatt can deliver enough votes for their premiership candidate to win the nomination.
Miqati reportedly headed to Saudi Arabia this evening
In a related development Egyptian FM Abul Gheit warned following talks with Phalange Party leader Amin Gemayel against any attempt at eliminating any elected group that represents the Lebanese people calling it a red line that no party should try crossing.
In an address to the Lebanese people Hariri said he decided to maintain his candidacy for premiership and accused the Iranian backed Hezbollah led opposition of trying to kick him out of political life.
Lebanon's Western-backed government collapsed Jan. 12 after Hezbollah and its allies resigned from the Cabinet in a dispute over a U.N. backed court investigating the 2005 assassination of former Lebanese Prime Minister Rafik Hariri, father of current caretaker PM Saad Hariri.
The court, Special Tribunal for Lebanon ( STL) which is widely expected to accuse the Shiite Hezbollah militant group, filed a sealed draft indictment Monday, touching off a process many fear could ignite new bloodshed nearly six years after the massive truck bombing along Beirut's waterfront that killed Hariri.