Lebanon Muftis warn on danger of intimidation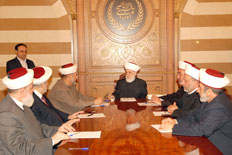 The Council of Muftis in Lebanon called on President Michel Suleiman to prevent the actions of those who seek to cause tension between sects in order to maintain security and stability.
"Anyone who tries to incite strife is a traitor to Lebanon, a country based on cooperation between different sects," the council also said in a statement following its meeting on Sunday, voicing its support for justice that leads to stability.
The statement cautioned against ignoring the majority of Sunnis and the parliamentary majority.
The muftis also warned of the dangers that would result from using intimidation and pressure to impose a cabinet.
In an address to the Lebanese people Hariri said he decided to maintain his candidacy for premiership and accused the Iranian backed Hezbollah led opposition of trying to kick him out of political life.
Lebanon's Western-backed government collapsed Jan. 12 after Hezbollah and its allies resigned from the Cabinet in a dispute over a U.N. backed court investigating the 2005 assassination of former Lebanese Prime Minister Rafik Hariri, father of current caretaker PM Saad Hariri.
The court, Special Tribunal for Lebanon ( STL) which is widely expected to accuse the Shiite Hezbollah militant group, filed a sealed draft indictment Monday, touching off a process many fear could ignite new bloodshed nearly six years after the massive truck bombing along Beirut's waterfront that killed Hariri.