Conflicting reports over Monday's premiership consultations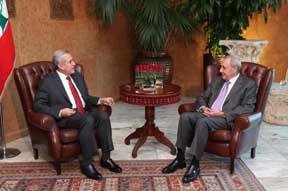 MTV reported Saturday evening Beirut time that Lebanese speaker Nabih Berri called Lebanese president Michel Suleiman and asked him to reschedule Monday's scheduled premiership consultations.
Hours later, around mid night Saturday , Berri's press office denied the MTV report : "Speaker Berri did not ask for postponing the consultation and confirms that they will be held as scheduled", Berri's office stated.
Al Hayat newspaper reported in its Sunday edition that MP Walid Jumblatt is strongly in favor of postponing the consultations , while president Michel Suleiman said he has no plans until now to reschedule them unless all parties agree.
Diplomatic sources revealed to Future that the ruler of Qatar Sheikh Hamad Bin Khalifa al Thani contacted president Suleiman urging him to reschedule the consultations to allow the Lebanese leaders to work out a political settlement .
According to LBC the Qatar ruler prefers to name former PM and current MP Najib Miqati as the compromise candidate to lead the next government and this was the purpose of his visit to Damascus , but both March 14 and March 8 rejected the idea.
Lebanon's Western-backed government collapsed Jan. 12 after Hezbollah and its allies resigned from the Cabinet in a dispute over a U.N. backed court investigating the 2005 assassination of former Lebanese Prime Minister Rafik Hariri, father of current caretaker PM Saad Hariri.
The court, Special Tribunal for Lebanon ( STL) which is widely expected to accuse the Shiite Hezbollah militant group, filed a sealed draft indictment Monday, touching off a process many fear could ignite new bloodshed nearly six years after the massive truck bombing along Beirut's waterfront that killed Hariri.