MP Sakr: Hezbollah is falling into a trap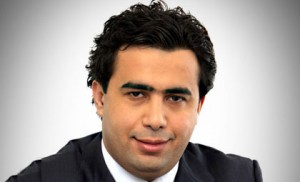 "We fear that Hezbollah might be falling into a trap," March 14 MP Okab Sakr said in an interview with Kuwaiti newspaper Al-Anbaa published on Saturday.
According to analysts, under no circumstances will Syria allow Hezbollah to completely control Lebanon for security reasons. Complete control of Lebanon will spell disaster for Syrian security , because any war between Israel and Hezbollah will mean a war on Syria too.
Analysts also believe that just like his father (the late Hafez Assad) , Syrian president Bashar Assad will invade Lebanon and his target will be Hezbollah as his father targeted his former allies the Palestine Liberation Organization in 1976.
Sakr said he still believes in the Saudi Syrian initiative ,"despite the fact that March 8 did not honor their commitment".
In a related development Lebanese Forces leader Samir Geagea said during a press conference today that any cabinet formed by former Prime minister Omar Karami would be shaped by ( the dreaded) former Syrian military intelligence chief in Lebanon General Rustom Ghazali .
Geagea warned that if the Hezbollah-led March 8 alliance assumes power it will turn Lebanon into another Gaza , the economy will be devastated and freedoms will be repressed.
Geagea was referring to Hamas' takeover of Gaza in 2007 and the devastation of its economy that followed . Both Hamas and Hezbollah are backed by Iran.
Lebanon's Western-backed government collapsed Jan. 12 after Hezbollah and its allies resigned from the Cabinet in a dispute over a U.N. backed court investigating the 2005 assassination of former Lebanese Prime Minister Rafik Hariri, father of current caretaker PM Saad Hariri.
The court, Special Tribunal for Lebanon ( STL) which is widely expected to accuse the Shiite Hezbollah militant group, filed a sealed draft indictment Monday, touching off a process many fear could ignite new bloodshed nearly six years after the massive truck bombing along Beirut's waterfront that killed Hariri.