Egypt, France call for Lebanon stability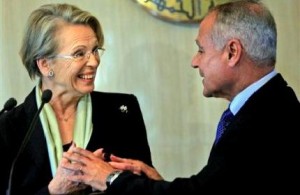 The foreign ministers of Egypt and France on Saturday called for stability in Lebanon, as the Mediterranean country struggled with a political crisis.
"We spoke of the necessity to respect legality (in Lebanon) and to fully apply the Taif Accord," Egypt's minister Ahmed Abul Gheit told reporters, referring to a 1989 agreement that ended Lebanon's devastating civil war and formalised a share of power for the country's different groups.
French Foreign Minister Michele Alliot-Marie, who is on a visit to Cairo, underlined the fact that both France and Egypt "have the same will to see the Lebanese consitutional authorities lead the reconstruction and stability of the country."
Earlier this month, 11 ministers of the Shiite Hezbollah group resigned, bringing down Saad Hariri's government in a dispute over a UN probe into the 2005 assassination of Hariri's father, former premier Rafiq Hariri.
Alliot-Marie said she hoped the probe would allow for "reconciliation of all Lebanese and guarantee national unity." Khaleej Times