March 14 coalition will vote for Hariri, report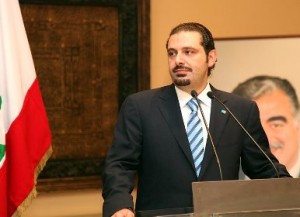 March 14 leaders stressed that the coalition will vote for Caretaker PM Saad Hariri in the upcoming parliamentary consultations, Future News reported late Thursday.
There were some rumors by the Hezbollah-led March 8 media that Hariri decided to quit, but in an address to the Lebanese people Hariri said he decided to maintain his candidacy for premiership and accused the Iranian backed Hezbollah led opposition of trying to kick him out of political life .
He said he made one sacrifice after another but the opposition always wanted more and "unfortunately the Saudi Syrian efforts failed "
He told the Lebanese people "One drop of blood of Lebanese citizens is more precious than anything else.
He said : "For this reason we decided not to take to the streets…. because we are committed to the constitution and added :"Taking to the streets is not a nationalistic rhetoric.", In reference to the Hezbollah and Amal gatherings on Tuesday