STL may seek Interpol's help in arrests, report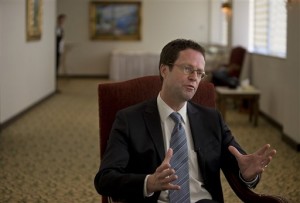 The United Nations backed Special Tribunal for Lebanon ( STL) investigating the killing of former Lebanese prime minister Rafiq Hariri, may seek the help of Interpol to make arrests when its indictment is completed.
"Once we have a confirmed indictment and there is a person or persons named in that indictment as accused, there will be an arrest warrant," Herman von Hebel, the tribunal's registrar, said in a phone interview today from Liedschendam, the Netherlands, where the court is based. "We may seek the assistance of Interpol in tracking where persons are and to see whether if we can get them arrested and transferred to the tribunal."
Lebanon's government, headed by Rafiq's son Saad Hariri, collapsed over the UN investigation last week when the Shiite Muslim Hezbollah movement and its allies walked out, saying the tribunal is biased against them. The deadlock has raised the prospect of a return to violence in a country that emerged from a 15-year civil war in 1990 and has seen recurrences of sectarian strife since then.
Prosecutor Daniel Bellemare filed an indictment Jan. 17 whose contents will remain confidential while the pre-trial judge, Daniel Fransen, assesses it. That will take at least six to 10 weeks, and people named in the document won't be notified until the review is complete, von Hebel said. A trial may start in September at the earliest, and the accused can be tried in absentia if they can't be taken to the court, he said.
The end of Hariri's national unity coalition and the fact he now only heads a caretaker administration "doesn't change the legal obligation to cooperate," von Hebel said.
Won't Allow Arrests
Hezbollah, classified as a terrorist group by the U.S. and Israel, has denied any role in the killing of Hariri, and says it's being targeted by the tribunal as part of an Israeli-U.S. plot.
The Shiite group's leader, Hassan Nasrallah, said on Nov. 11 that he won't allow members to be detained at the tribunal's orders, and will "cut the hand" of anyone who attempts to do so. Nasrallah has called on Lebanese officials and citizens not to cooperate with the inquiry.
"If an accused were to be in the state of Lebanon, then of course it is upon the government of Lebanon to implement that arrest warrant and to hand that person over to the tribunal," von Hebel said. BW