Hezbollah: A state of emergency is in effect in Lebanon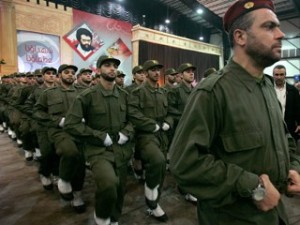 Lebanon opposition factions are on alert and Hezbollah's cadres have been informed that a state of emergency is in effect, Hezbollah sources told MTV .
This comes a day after Hezbollah and Amal Movement supporters gathered in the streets of downtown Beirut including Tayyouneh, Ras al-Nabeh, Zqaq al-Blat, and Bechara al-Khoury early Tuesday.
Several schools in Beirut were prompted to close as nervous parents pulled their children from class, as a result of the show of force by Hezbollah and Amal.
Lebanon First bloc MP Okab Sakr told Future TV on Wednesday that intimidation , even if demonstrated by certain military actions , will not alter the political situation.
"We will confront any action that might drag the country to the unknown," Sakr added.
Earlier today March 14 general-secretariat described the resignation of March 8 ministers as an escape from their national responsibilities. March 14 vowed to "continue to defend Lebanon against the coup that aims at turning it into an Iranian base on the Mediterranean shores."
Saudi Arabia has reportedly abandoned efforts to mediate in Lebanon's political crisis after Hezbollah quit the government last week.
Saud al-Faisal, Saudi Arabia's foreign minister, told the Saudi-owned Al-Arabiya TV in an interview on Wednesday that the Saudi king is "withdrawing his hand" from Lebanon.
Turkish FM Ahmet Davutoglu and Qatari FM Sheikh Hamad bin Jassem bin Jaber al-Thani (who is also the prime minister) met overnight in a secret location with Hezbollah Secetary General Sayyed Hassan Nasrallah . The talks reportedly focused on the political crisis, according to a statement by Hezbollah.
This is the second day of mediation by the visiting officials . Yesterday they met with the top leaders of the country and today they are expected to make another round