Hezbollah, Amal gatherings prompt schools in Beirut to close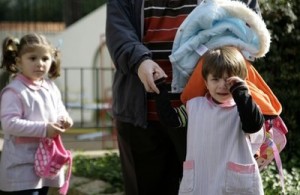 Hezbollah and Amal Movement supporters gathered in the streets of downtown Beirut early Tuesday prompting several schools in Beirut to close as nervous parents pulled their children from class.
Al-Arabia TV reported that hundreds of unarmed Hezbuollah and Amal Movement members gathered in downtown Beirut around 7 am local time . Most of the concentration was in the areas of Basta, Beshara Khoury, Nweiri, Ras el-Nabeh, Tayounneh and Zoqaq Blat.
They were reportedly dressed in black and carrying hand-held radios.
Lebanese security officials confirmed the gatherings, which dispersed by late morning and appeared to be a show of force to coincide with the videotaped statement by Special Tribunal for Lebanon's (STL) Prosecutor Daniel Bellemare about the about the indictment's filing.
Hezbollah denied any knowledge about the gathering. Ghaleb Abu Zeinab, a member of Hezbollah's political bureau, said he is not aware of such gatherings.
"I cannot comment," he said.
According to Voice of Lebanon Speaker Nabih Berri , who heads the Amal Movement interfered to contain the situation .
According to sources of Lebanon Files the gathering was intended as a manoever aimed at preparing for a major protest in the future … similar to what the Hezbollah led opposition supporters did between 2006 and 2008when they occupied downtown Beirut and tried to bring down the government
Bellemare submitted the court's draft indictment for the 2005 assassination of former Prime Minister Rafik Hariri to STL Pre-trial Judge Daniel Fransen on Monday at 4:35 p.m. local time.
The indictment was sealed and its contents will likely not become public for weeks.
Even though no one knows until this very moment the contents of the indictments the Iranian and Syrian backed Hezbollah has said it expects the indictments to be against members of its group.
Hariri was assassinated with 22 others on February 14, 2005 when a massive explosion struck his motorcade in a fashionable seafront district of Beirut, sending tremors through a country still haunted by memories of its 1975-1990 civil war..
Photo: A child reacts as his father takes him from Saint Anne De Besancon school in Wadi Abu Jamil area in Beirut, Lebanon, Tuesday, Jan. 18, 2011.