Berri requested the delay in parliament consultations, report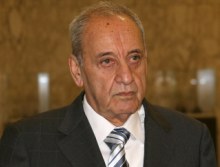 An Nahar newspaper reported on Tuesday  that informed sources have revealed that Lebanon Speaker Nabih Berri was the one who requested the delay in parliament consultations. He reportedly contacted president Michel Suleiman after consulting with his March 8 allies and MP Walid Jumblatt.
According to An Nahar sources Suleiman consulted with caretaker PM Saad Hariri several times before announcing the decision to delay the talks.
Suleiman angers March 14
Suleiman's decision to postpone parliamentary deliberations angered the March 14 majority coalition.
Earlier on Monday it was reported that  caretaker Prime Minister Saad Hariri was against postponing parliamentary consultations .
Future TV quoted on Monday an unnamed source as saying that postponing the parliamentary consultations to nominate a new premier served the interest of Hezbollah-led March 8 coalition.
The Phalange party labeled the postponement as "inappropriate because it is difficult to tamper with constitutional events."
Lebanese Forces leader Samir Geagea expressed his regret over the delay in consultations and "going back on official dates under pressure, threats, and external interference aimed at pushing caretaker Prime Minister Hariri to accept in advance what he previously rejected."
"The reasons for delaying the deliberations are very clear and easy. After it became clear that … Hariri will be re-nominated, extensive pressures were exerted from inside and outside to prevent the nomination of Hariri. They are disrupting the democratic game to achieve their goals," Geagea said after chairing a meeting for the L.F. parliamentary bloc at his residence in Maarab.
Ya Libnan correspondent reported that the opposition is still trying to pressure MP Walid Jumblatt who has the decisive vote to switch allegiance.