STL Prosecutor will issue Tuesday videotaped statement on indictment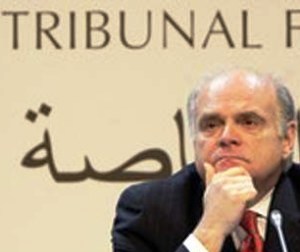 The Special Tribunal for Lebanon's (STL) press office issued a statement on Monday stating that Prosecutor Daniel Bellemare will issue a videotaped statement about the indictment's filing on Tuesday.
Bellemare submitted the court's draft indictment for the 2005 assassination of former Prime Minister Rafik Hariri to STL Pre-trial Judge Daniel Fransen on Monday at 4:35 p.m. local time.
"The registrar of the Special Tribunal for Lebanon, Herman von Hebel, can confirm that the prosecutor of the tribunal has submitted an indictment and supporting materials to the pre-trial judge," the statement said.
The tribunal added that the contents of the indictment will remain confidential at the current stage.
The STL's Office of the Prosecutor issued a statement later on Monday that Bellemare's draft submission "marks the beginning of the judicial phase of the tribunal's work."
STL chief of Public Affairs Crispin Thorold told MTV on Sunday that the tribunal's content will remain confidential until Fransen approves the indictment, adding that the process could take 6 to 10 weeks.
Even though no one knows until this very moment the contents of the indictments the Iranian and Syrian backed Hezbollah has said it expects the indictments to be against members of its group.
Hariri was assassinated with 22 others on February 14, 2005 when a massive explosion struck his motorcade in a fashionable seafront district of Beirut, sending tremors through a country still haunted by memories of its 1975-1990 civil war.