Tunisia's 'jasmine revolution' sent shockwaves across ME
Riots in Algeria, where a man burned himself to death in an apparent echo of a suicide that began the Tunisian protests.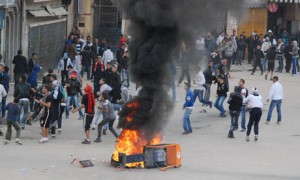 Tunisia's "jasmine revolution" sent new shockwaves across north Africa today, with a copycat suicide protest reported in Algeria and official dismay in Libya.
Politicians met amid sporadic violence in Tunis to agree the formation of a new government. Maya Jribi, secretary-general of the opposition Progressive Democratic party, told the AFP news agency that an interim government, to be announced tomorrow, would include her party, Ettajdid (Renaissance), and the Democratic Front for Labour and Freedoms, as well as independent figures. Agreement was reportedly reached after talks between the parties and Mohamed Ghannouchi, prime minister under the deposed dictator Zine al-Abidine Ben Ali.
The European Pressphoto Agency announced the death of French photographer Lucas Mebrouk Dolega, 32, who was hit in the head by a police teargas canister on Friday. Up to 200 people are estimated to have been killed since the unrest began last month, including 42 prisoners who died in a fire on Saturday.
Earlier, Libya's Muammar Gaddafi expressed his "pain" that Ben Ali, who fled to Saudi Arabia on Friday, had not been allowed to step down in his own time, as he had belatedly offered – reflecting nervousness among other autocratic Arab leaders of a ripple effect that could embolden opposition forces across the region.
"You have suffered a great loss," Gaddafi, now in power for 41 years, said in a speech on state radio and TV. "There is none better than Zine to govern Tunisia. Tunisia now lives in fear."
Echoes of the unrest were also heard from Algeria, where a man burned himself to death in an apparent copycat suicide that echoed the young Tunisian Mohamed Bouazizi, whose death sparked off the trouble in mid-December.
Algeria's El Khabar newspaper reported that Mohsen Bouterfif set himself alight last Thursday after failing to find a job and a house. Riots erupted after he died of his burns on Saturday. A second, failed, attempted suicide by self-immolation was reported from Mostaganem, according to El Watan. In the past few weeks, Algerian towns have seen rioting over unemployment and a sharp rise in food prices. Two people were killed and scores injured during unrest which unfolded in parallel to the violence in Tunisia.
Analysts say the big question is whether Ben Ali's departure will now be followed by real regime change that brings divided opposition parties into power. "The fear is that the country's democratic transition will be a painful one," wrote Hacen Ouali in El-Watan.
Newspapers and comment across the Middle East focused on the lessons of Tunisia's drama for other countries. Terse statements from Egypt and several other Arab governments spoke of respecting the will of the Tunisian people. Saudi Arabia defended its much-criticised decision to take in Ben Ali, who is now with his family in a heavily guarded palace in Jeddah.
Egypt, Jordan, Algeria and Morocco are seen as the other countries most likely to face serious popular unrest over unemployment, corruption and hopelessness, though social, political and economic conditions vary considerably between them.
Arab opposition forces continued to hail Ben Ali's fall. The Beirut newspaper al-Akhbar saluted "the gift from Tunisia to Arabs: the end of a dictator" while Lebanon's Hezbollah urged Arab leaders to learn from the Tunisian protests.
In Syria, where the Bashar al-Assad regime is just as repressive, the pro-government daily al-Watan said events in Tunisia were "a lesson that no Arab regime should ignore, especially those following Tunisia's political approach of relying on 'friends' to protect them".
The Palestinian Islamist movement Hamas warned that the leadership of its PLO rival in the West Bank was likely to meet the same fate as Ben Ali.
"Mahmoud Abbas and his sons are among the wealthiest Palestinians," it said. "Fatah leaders are very corrupt. All indications are that the residents of the West Bank, who live under a tyrannical regime, are close to toppling the regime there."
Photo: Riots in Algeria, where a man burned himself to death in an apparent echo of a suicide that began the Tunisian protests.