Omar Karami is Hezbollah's candidiate for Lebanon PM, report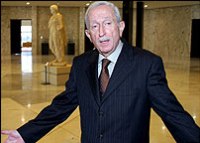 According to an Nahar diplomatic sources many contacts took place until very late hours Sunday night after the speech of Hezbollah chief Hassan Nasrallah aimed at delaying the parliamentary consultations over the nomination of a prime minister to lead the next government .
Nasrallah in his speech declared that the opposition has decided against nominating caretaker PM Saad Hariri .
According to An Nahar sources the race is now on between the opposition and March 14 with the aim of securing maximum number of votes for their nominee. The sources revealed that the candidate of the Hezbollah-led opposition is former PM Omar Karami .
The pro-Syrian Karami was the prime minister when former PM Rafik Hariri ( Saad's father) was assassinated in 2005 . Lebanon Files