Talks to name next Lebanon PM postponed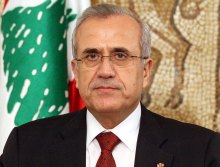 Lebanon postponed talks on forming a new government on Monday, leaving regional leaders meeting in Syria to tackle the political crisis triggered by imminent indictments over the 2005 killing of Rafik al-Hariri.
A statement from President Michel Suleiman's office said the consultations in Beirut had been put back by a week "after evaluating the different positions of the Lebanese parties".
Last week, Shi'ite Hezbollah, along with its allies, brought down the government of Saad al-Hariri, the slain Sunni leader's son. It said on Sunday it will not back Hariri for another term.
A U.N.-backed tribunal investigating the 2005 killing is expected to issue indictments this week and to accuse members of Hezbollah of involvement.
The militant group, which denies any role in the bombing, had asked Hariri to renounce the tribunal, withdraw the Lebanese judges and freeze Lebanon's funding of it.
Hariri's rejection of the demands triggered the resignation of 11 ministers from Hezbollah and its allies last week.
Hezbollah is backed by Syria and Iran while Hariri enjoys Western and Saudi support, meaning that the deep divisions among Lebanese parties are reflected in tensions between their powerful regional backers.
REGIONAL CONCERN
Turkish Prime Minister Tayyip Erdogan, speaking before talks on Monday with leaders of Syria and Qatar in Damascus, said instability in Lebanon was a concern for the whole Middle East.
"Our region could not cope with Lebanon entering a new atmosphere of uncertainty," Erdogan said at Istanbul airport.
"With this visit we want to discuss what we can do to overcome this crisis and what other countries in the region must do for Lebanon's stability."
Erdogan also said Iran's foreign minister would visit Turkey on Monday evening after Erdogan discussed the issue at the weekend with Iranian President Mahmoud Ahmadinejad.
Hezbollah leader Sayyed Hassan Nasrallah said on Sunday his movement would fight efforts to tarnish its image. "We will not allow our reputation and our honor to be touched," he said.
Nasrallah said leaders from several countries had intervened to demand Hariri be picked again to form the next government, but defended the decision to bring down the government.
"It was a must to topple the incapable government because bringing it down might — and I say, might — open the door for Lebanon to form a loyal government that could carry the burden … and be responsible," he said.
Reuters
Talks to name next Lebanon PM postponed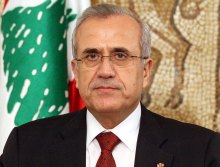 Lebanon postponed talks on forming a new government on Monday, leaving regional leaders meeting in Syria to tackle the political crisis triggered by imminent indictments over the 2005 killing of Rafik al-Hariri. (more…)