Jordan beats Syria to make Asian Cup quarterfinals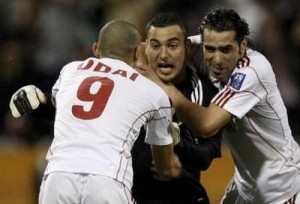 Jordan came back from a goal down to beat Syria 2-1 Monday to qualify for the Asian Cup quarterfinals and deny Syria its first trip to the knockout stage.
Striker Odai al-Saify scored the winning goal in the 59th minute, slipping past Syria defender Ali Dyab and chipping the ball over the shoulder of goalkeeper Mosab Balhous.
Syria, needing a win to progress, took the lead in the 15th minute when Mohamad al-Zino turned home the rebound after Jordan goalkeeper Amer Shafi saved a shot from Sanhabrib Malki. But Jordan equalized in the 30th when Dyab headed a cross into his own net.
Jordan finished second in Group B behind Japan and will play Group A winner Uzbekistan in the quarterfinals. It will be Jordan's second appearance in the quarterfinals after losing to Japan on penalties at the same stage in 2004.
"The Syrians had some chances but we played well and were focused and full of discipline," Jordan coach Adnan Hamad said.
The victory set off wild celebrations inside the Qatar Sports Club stadium in Doha after the whistle blew, as players raced toward the crowd and bowed. Back in capital Amman, flag-waving supporters banged drums, danced and shouted "Jordan First" — slogan used by Jordan's ruler to foster national allegiance — while others drove through the street celebrating the win.
"I expected we'd win right from the beginning, but we were shocked when the Syrians scored first," said Amman salesman Anas Hneiti, 23. "But our heroes were able to change the situation and secure the victory."
Jordan, only needing a draw to advance, chose to sit back early as the Syrians pressed repeatedly. Syria had its first chance in the 11th minute when midfielder Jehad al-Hussien crossed to Sanharib Malki, but his header went wide.
Four minutes later, al-Zino scored off a rebound after Shafi saved a shot from Malki, giving the Syrians the lead.
Al-Zino could have scored another five minutes later when he was left unmarked in front of the net but he couldn't handle a cross. The ball bounced off his shoulder and went wide of the goal.
The Jordanians then stepped up their game, launching several attacks on the Syrian goal. But Jordan still didn't posed much of a threat until the 30th when a cross into the area was headed by Dyab into his own net. The Syrians admitted that put them on the backfoot from which they never really recovered.
"We were very close to qualifying and scored first and were controlling the match, but our own goal shocked us," Syrian striker Firas al-Katib said. "Then we tried to open the game to compensate and we suffered another goal."
Jordan had a chance to go into the lead four minutes later when midfielder Hasan Abdel Fattah took a cross in the area but mis-hit the ball wide before scoring the winner courtesy of Syria's shaky defense.
It should have been a long ball that keeper Balhous easily cleared. Instead, al-Saify muscled his way past Dyab and kicked it past the onrushing Balhous — who came out too far and appeared to misjudge the flight of the ball.
Syrian coach Valeriu Tita, a Romanian who only took over the team four weeks ago, refused to blame any one player or even his own tactics for the loss. But he admitted he felt the team was unfortunate to lose and he belittled Jordan as a team not worthy of advancing beyond the quarterfinals.
"We really started well and scored a goal," Syria coach Valeriu Tita said. "But then we gifted Jordan two goals. That is it."
Tita, appearing agitated at times, said he came in knowing defense was Syria's weak point and admitted finding good defenders in the country has proven almost impossible. He then launched an attack on quality of team which he said didn't include the best in Syria and lamented that that the current crop of players aren't good enough to succeed in Asia.
"These players did not deserve to be in national team," he said. "These players haven't won anything. This time, they went to Asian Cup and did try. But I think we need a new generation if we want to have good football in Syria." ctpost
Photo: Jordan's Odai Al Saify (L) celebrates his goal with teammates Amer Shafi (C) and Shadi Abu-Hashhash during their 2011 Asian Cup Group B soccer match against Syria at Qatar Sports Club stadium in Doha January 17, 2011.