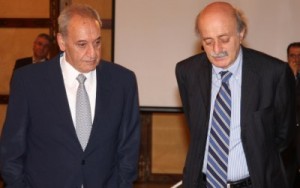 Progressive Socialist party leader MP Walid Jumblatt said his meeting with Syrian President Bashar Assad on Saturday was excellent, an-Nahar newspaper reported.
Jumblatt also said that he will will declare his stance on the parliament consultations ( aimed at nominating a PM designate ) at 3:45 p.m. Monday following his meeting with the President Michel Suleiman as part of consultations" with his party, according to the An Nahar report.
In a related development al-Hayat quoted informed sources as saying that Jumblatt and members of his Democratic Gathering bloc were most likely to name caretaker PM Saad Hariri to head the new cabinet.
The sources also said that Jumblatt informed Hariri during their meeting on Friday that he was committed to the content of the Saudi-Syrian agreement and that there was no interest in naming a premier other than Hariri as long as he holds onto the Arab mediation.
Jumblatt was reportedly pressured by Syrian president Bashar al Assad to side with the candidate of the Hezbollah-led opposition during the parliamentary consultations.
According to local reports Jumblatt was going to tell the Syrian authorities that he cannot convince all the members of his Democratic Gathering bloc to vote for the PM candidate of the opposition and for this reason he is working on a compromise during the parliamentary consultations to delay the designation of a new prime minister with the aim of returning Hariri as the head of the government, according to Lebanon Files
Lebanon Files reported that Syria is insisting that the majority of Jumblatt's MPs should vote for the opposition candidate . …They want Jumblatt to name 8 of his 11 member bloc to vote for the opposition.
The Democratic Gathering bloc will meet at 5 p.m. on Sunday at Jumblatt's residence in Clemenceau to discuss its stance on the parliamentary consultations scheduled for Monday, LBCI TV and MTV reported on Saturday.
Berri
It appears from a Sunday report by Asharq al-Awsat that Lebanese speaker Nabih Berri as adopting a similar stance to Jumblatt's . He reportedly told the daily that" the opposition was keen on seeing Hariri's commitment to the Saudi-Syrian efforts to solve the crisis so that it names him for the PM's post again."
Saudi and Syrian officials had reportedly been working on a compromise that would resolve tensions in Lebanon over the imminent Special Tribunal for Lebanon (STL) indictment . Reports say that the STL may soon indict Hezbollah members in its investigation of the 2005 assassination of former Lebanese PM Rafik Hariri, father of Saad the current prime minister.
Hezbollah asked MP Michel Aoun to announce on Tuesday the failure of the Saudi-Syrian initiative and to blame March 14 alliance for the failure.
Hariri reportedly told MP Walid Jumbaltt on Friday: They want me to surrender and present concession after concession … on top of that they have a gun pointed to my head," he was quoted as saying.
Hariri also reportedly told Jumblatt that the opposition cannot be counted on in respecting agreements, as proven through its violation of the Doha agreement when the opposition ministers resigned from Cabinet.
This error message is only visible to WordPress admins
Error: No connected account.
Please go to the Instagram Feed settings page to connect an account.