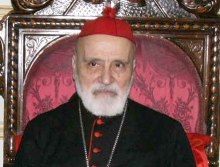 Lebanese Caretaker Labor Minister Butros Harb unveiled Sunday that Maronite Patriarch Nasrallah Sfeir submitted his resignation to the Vatican months ago but the Vatican was taking its time in accepting it.
Following a meeting with Sfeir, Harb said it is up to the Vatican to make a decision on the matter, adding that so far there has been no response.
Born on May 15, 1920 , Sfeir is the patriarch of Lebanon's largest Christian body, the Maronite Church, an Eastern Catholic Church in communion with the Holy See. He is also a Cardinal. He was elected Patriarch of Antioch for the Maronites on April 27, 1986, after the resignation of Cardinal Anthony Peter Khoraish. He is the third Maronite Cardinal and the 76th Patriarch of the Maronite Church. His official title is "His Beatitude and Eminence the seventy-sixth Patriarch of Antioch and the Whole Levant".
Concerned
Sfeir who has been very critical of the political situation said on December 20 :"Hezbollah appears intent on seizing power in Lebanon" and warned against the party's attempt to unilaterally rule the country saying justice was more important than stability.
"The way Hezbollah is acting and their talk about becoming a significant force leads us to believe that if the party continues to pursue its plan it could seize power. The dangers of such a step, if it takes place, lie in the fact that Lebanon cannot be ruled by one party," Sfeir said in a
interview with MTV television.
Sfieir who is also concerned over the situation of Christians in Lebanon and the entire Middle East said during an interview with CNN on January 5th that all the Lebanese people are worried and not only the Christian Lebanese.
Sfeir described the situation of the Christians in the Middle east as tragic and specially in Iraq.
Sfeir told CNN that the situation for Christians in Lebanon has completely changed because in the past, they represented the majority of the population and occupied a special position in Lebanon, but demographics have since changed.
He said Christian families are satisfied with three to four children, while Muslim families could have 10 to 15 children.
"This is why Muslims have now greatly outnumbered the Christians, especially since Christians and some Muslims have emigrated," the patriarch said.
Asked whether he believes Lebanon would ever have president who is not Christian, Sfeir replied: "I don't know, maybe if matters developed further and the Christians became a minority."
He added that this issue is up to the Lebanese themselves and maybe, if the Muslims continue to outnumber the Christians in Lebanon, some new demands may be raised for such a change.
Addressing Islamist fundamentalism , he said that this is perhaps due to injustice in some societies but stressed that this is not the real Islam, and concluded the interview by stating : "Our message is for the people to cooperate with each other and seek peace, not war."