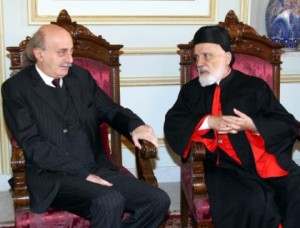 Democratic Gathering bloc leader MP Walid Jumblatt told reporters following his meeting with Maronite Patriarch Nasrallah Boutros Sfeir in Bkirki on Wednesday that dark forces interfered to obstruct Saudi-Syrian efforts that aimed at ending the current Lebanese impasse."
"I was informed yesterday about the details of the Saudi-Syrian initiative… but dark forces have thwarted it," Jumblatt said
The MP also said that the Saudi-Syrian initiative had attempted to contain any negative repercussions that might be caused by the Special Tribunal for Lebanon's (STL) indictment, which "might be issued at any moment."
"Prime Minister Saad Hariri and the March 8 coalition were asked to make some concessions . If I were in their position, I would have suggested that both parties make the concessions at once."
"Why can't we sponsor talks domestically without foreign intervention ?" he asked, thanking Saudi Arabia and Syria for their "exceptional and excellent" efforts in Lebanon.
Voice of Lebanon radio station said Sfeir will host lunch for Jumblatt and State Minister Wael Abu Faour, who has accompanied him.
Saudi and Syrian officials have reportedly been working on a compromise that would resolve tensions in Lebanon over the imminent Special Tribunal for Lebanon (STL) indictment . Reports say that the STL may soon indict Hezbollah members in its investigation of the 2005 assassination of former Lebanese PM Rafik Hariri, father of Saad the current prime minister.
PM Hariri said during an interview with the Al-Hayat newspaper that was published on Friday that the Saudi-Syrian (S-S) agreement on reducing tension in Lebanon had been finalized a long time ago, even before King Abdullah , traveled to New York for the treatment but blamed Hezbollah and its March 8 allies for not living up to their end of the deal.
Hariri also said : " I will not implement any commitment I made before the other party ( read Hezbollah) implements what it said it would commit to and added 'anything else is an attempt to sabotage the Saudi-Syrian efforts."
" This is the major base of the Syrian-Saudi efforts". Hariri stressed.
Hariri said he decided to break his months-long silence to defend the Saudi-Syrian process against a campaign aimed at distorting it. "I have kept silent for months. Now, I have broken silence just because I am responsible and concerned with protecting this process in the interest of the country and its stability."
Hariri did not reveal the details of the Saudi-Syrian deal, but his political adviser, Mohammad Shatah, said during an interview on Friday that the Saudi-Syrian deal is aimed at achieving stability in Lebanon, by taking specific steps to reduce political tension, such as restoring contacts between Lebanese factions, ensuring that state institutions return to serving the public and following up on the issue of Lebanese-Syrian ties.
MP Michel Aoun announced on Tuesday during a press conference that the Saudi-Syrian initiative has failed and blamed March 14 alliance for its failure