Geagea warns against attempts to depose Lebanon Pm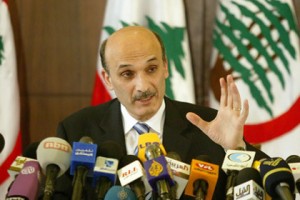 Following the Tuesday threats that the Hezbollah led March 8 ministers may quit the cabinet and force the prime minister Saad Hariri to resign if president Michel Suleiman the premier will not hold a cabinet meeting by Wednesday , Lebanese Forces leader Samir Geagea warned during a press conference at Maarab on Wednesday against any attempts to depose Prime Minister Saad Hariri and reiterated his support for the premier.
"PM Hariri should remain the country's premier… those who call for assigning a new PM are seeking strife," Geagea said
"The cabinet will not convene under pressure from the March 8 coalition," he said and added ot is not up to March 8 to decide when the cabinet can onvene .
The LF leader stressed that "the most important thing is that the current conflict remains within its political framework."
.
Health Minister Mohammed Jawad Khalife a member of the Amal Movement told Hezbollah's Al-Manar TV that the March 8 ministers were planning to resign this afternoon unless Prime Minister Saad Hariri agrees to their demand to convene an urgent Cabinet meeting to discuss "ways to confront the STL."
"Abolishing the Special Tribunal for Lebanon (STL) is out of the question." Geaea warned
Addressing his political rival Geagea said :
"I would like to ask Free Patriotic Movement leader MP Michel Aoun: Did the people who elected him in 2005 and in 2009 vote for him on this basis on which the ministers of his bloc are now resigning? And for what? What are 'false witnesses' anyway ?"
Geagea voiced support for "any unconditional Lebanese-Lebanese dialogue" to resolve the current gridlock.
Saudi and Syrian officials have reportedly been working on a compromise that would resolve tensions in Lebanon over the imminent Special Tribunal for Lebanon (STL) indictment . Reports say that the STL may soon indict Hezbollah members in its investigation of the 2005 assassination of former Lebanese PM Rafik Hariri, father of Saad the current prime minister.
PM Hariri said during an interview with the Al-Hayat newspaper that was published on Friday that the Saudi-Syrian (S-S) agreement on reducing tension in Lebanon had been finalized a long time ago, even before King Abdullah , traveled to New York for the treatment but blamed Hezbollah and its March 8 allies for not living up to their end of the deal.
Hariri also said : " I will not implement any commitment I made before the other party ( read Hezbollah) implements what it said it would commit to and added 'anything else is an attempt to sabotage the Saudi-Syrian efforts."
" This is the major base of the Syrian-Saudi efforts". Hariri stressed.
Hariri said he decided to break his months-long silence to defend the Saudi-Syrian process against a campaign aimed at distorting it. "I have kept silent for months. Now, I have broken silence just because I am responsible and concerned with protecting this process in the interest of the country and its stability."
Hariri did not reveal the details of the Saudi-Syrian deal, but his political adviser, Mohammad Shatah, said during an interview on Friday that the Saudi-Syrian deal is aimed at achieving stability in Lebanon, by taking specific steps to reduce political tension, such as restoring contacts between Lebanese factions, ensuring that state institutions return to serving the public and following up on the issue of Lebanese-Syrian ties.
Hezbollah asked MP Michel Aoun to announce on Tuesday the failure of the Saudi-Syrian and to blamed March 14 alliance for the failure.