Speculation over Hariri's trip to New York continues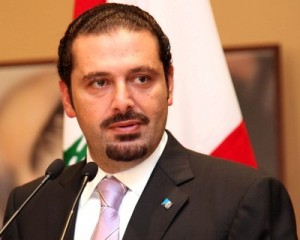 There has been a lot of speculation by rival camps in Lebanon over the purpose of the visit by Lebanon's PM Saad Hariri to New York.
As expected March 14 politicians are all supportive of Hariri's position while the Hezbollah led March 8 opposition is insisting that the Special Tribunal for Lebanon should be abolished and that Hariri knows what he has to do under the Saudi Syrian deal.
March 14
March 14 General Secretariat coordinator Fares Soueid told MTV:
" Nothing will happen in New York over the Saudi Syrian deal…There is no bargaining over the Special Tribunal for Lebanon (STL)…. nor over its indictment. These matters are beyond compromise.".
"The compromise is about whether the indictment's issuance will be a step toward civil war, or whether we can make it a foundational step toward reconciliation in Lebanon," he told MTV.
Commenting on MP Walid Jumblatt's stance Soueid said : The Druse are "playing the role of the 'Red Cross' between Sunni and Shiite Muslims ," adding that "they will pay the price for this political stance in the future."
"Christians ought not to play such a role", Soueid added.
Lebanese Forces MP Antoine Zahra told Future News: "All the talk that Hariri went to New York to hear instructions and accept pressures is not right, since he has stressed that an agreement had been already made since a while with the aim of preserving stability and justice in Lebanon."
Earlier today Zahra told VOL: ""If March 8 camp was not convinced that State institutions must stop being hijacked, we are not heading toward a solution soon."
Labor Minister Boutros Harb , a key member of the March 14 majority alliance told MTV: "Hariri cannot renounce the principle of justice and he is committed to finding a settlement. We are calling for justice and we reject that the tribunal be used as a tool to pressure Hezbollah."
MP Ahmed Fatfat, a key member of the Future movement that is headed by Hariri told MTV: "PM Saad Hariri has showed openness toward all parties, but the Opposition hasn't offered anything as it is claiming. The STL can't be called off if we want to consolidate the Lebanese political system and unveil the truth."
Former MP and current Future Movement official Mustafa Alloush told VOL:" There are certain red lines that Hariri will not allow to be crossed."
Environment Ministerr Mohammed Rahhal, a key member of the Future Movement told Future TVs: "No compromise on the STL. Whatever the settlement on the STL, it will not terminate the Court."
He also told OTV that Hariri wants to prevent conflict in the country, but added that "this matter does not abolish the STL."
"The motive behind the issue of 'false witnesses' is to create an impasse in the country that would lead to the abolishment of the tribunal, " he added
Phalange MP Nadime Gemayel said on Monday :" Any settlement that will destroy the STL role is tantamount to legitimizing crime and terrorism."
The Phalange Party politburo issued a statement on Monday in which it said "the local reports on the possibility of abolishing the Special Tribunal for Lebanon (STL) in exchange for allowing the cabinet to function are "desperate attempts to escape the course of justice."
"The situation in the country is dangerous…. Some parties are looking for an opportunity to destabilize Lebanon ," the statement said.
The party stressed the role of the Lebanese state in achieving justice "because the state is responsible for stability."
Independence Movement leader MP Michel Mouawad was quoted as saying after visiting Maronite Patriarch Nasrallah Boutros Sfeir on Monday:
"Any upcoming compromise should aim to preserve justice and settlement in Lebanon."
he added :"Criminals can no longer benefit from political assassinations, they need to pay for their crimes .
Future Movement MP Ammar Houri told As-Sharq radio on Monday.
"The Saudi-Syrian initiative to resolve tensions in Lebanon has to succeed for the country's sake."
"Prime Minister Saad Hariri has taken positive steps but they have been rejected by the other side," Houri added.
March 8
Former minister Wiam Wahab, a staunch Syrian ally said on Monday that Prime Minister Saad Hariri is "trying to act cute in a stupid way."
He repeated what Hezbollah said and told New TV that Hariri "knows what he should do" to end the current Lebanese impasse and added " his masters must have told him already
"Hariri's statements are unfounded and not thorough. The PM knows that a compromise can be reached after he approves the abolishment of the Special Tribunal for Lebanon (STL)."
Wahab stressed that that the situation will be different after the indictment is issued and that the compromise should come before it ( the indictment) noting that the opposition does not want a war but warned that the opposition can prevent Hariri from returning to the position of Prime Minister
Amal Movement MP Michel Moussa said on Monday that talks about a possible Saudi-Syrian deal to end the current Lebanese impasse are only assumptions.
" Such reports are not based on concrete data," Moussa told MTV.
Another Amal Movement official MP Qassem Hashem said on Monday:"The positives of the Saudi-Syrian initiative are still increasing despite the US' negative role."
Free patriotic Movement MP Ibrahim Kanaan said on Monday in a statement : "The content of the Saudi-Syrian agreement to resolve Lebanese tensions should be made clear to the public."
"The Lebanese people have the right to know what the agreement is," he added i
FPM is headed by MP Michel Aoun, a key ally of Hezbollah and Syria
Jumblatt bloc
MP Fouad Saad , a member of the Democratic Gathering bloc which is headed by Jumblatt said on Monday: There is a dispute over what is demanded of the difference sides in the Saudi Syrian agreement and "it appears that no one knows the content of this compromise yet."
The compromise has not yet been announced and everyone should wait for it to be clarified, he said.
Saad also expressed surprise that "March 8 forces demand that March 14 concede the Special Tribunal for Lebanon (STL) when everyone knows that the tribunal is ongoing and cannot be abolished."
The meeting between PM Hariri and Saudi King Abdullah Bin Abdel Aziz has taken place with the two sides discussing all pending issues without exception, Central News Agency reported on Monday based on leaked reports from New York based media.
Hariri is expected back by Wednesday according to a report by NBN TV. While in New York he also met US Secretary of State Hillary Clinton, UN chief Ban Ki-Moon and expected to meet French president Nicolas Sarkozy , who met president Obama earlier on Monday.
Saudi and Syrian officials have reportedly been working on a compromise that would resolve tensions in Lebanon over the imminent STL indictment . Reports say that the STL may soon indict Hezbollah members in its investigation of the 2005 assassination of former Lebanese PM Rafik Hariri, father of Saad the current prime minister.
PM Hariri said during an interview with the Al-Hayat newspaper that was published on Friday that the Saudi-Syrian (S-S) agreement on reducing tension in Lebanon had been finalized a long time ago, even before King Abdullah , traveled to New York for the treatment but blamed Hezbollah and its March 8 allies for not living up to their end of the deal.
Hariri also said : " I will not implement any commitment I made before the other party ( read Hezbollah) implements what it said it would commit to and added 'anything else is an attempt to sabotage the Saudi-Syrian efforts."
" This is the major base of the Syrian-Saudi efforts". Hariri stressed.
Hariri said he decided to break his months-long silence to defend the Saudi-Syrian process against a campaign aimed at distorting it. "I have kept silent for months. Now, I have broken silence just because I am responsible and concerned with protecting this process in the interest of the country and its stability."
Hariri did not reveal the details of the Saudi-Syrian deal, but his political adviser, Mohammad Shatah, said during an interview on Friday that the Saudi-Syrian deal is aimed at achieving stability in Lebanon, by taking specific steps to reduce political tension, such as restoring contacts between Lebanese factions, ensuring that state institutions return to serving the public and following up on the issue of Lebanese-Syrian ties.