Sudan border clashes kill 23 on day two of vote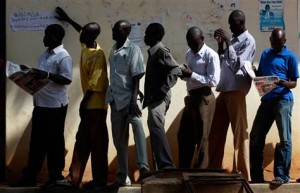 At least 23 people have died in clashes with Arab nomads near Sudan's north-south border, leaders in the contested Abyei region said on Monday, on the second day of a week-long referendum on southern independence.
Analysts cite Abyei as the most likely place for north-south tensions to erupt into violence during and after the vote, the climax of a troubled peace deal that ended decades of civil war.
Voters in Southern Sudan's capital of Juba are waiting for hours to cast ballots.
Voting began Sunday with jubilant celebrations in the capital. The south, which is mainly black and Christian or animist, is set to split apart from the north, which is Arab and Muslim. The two sides ended a 23-year civil war in 2005 with a peace deal that called for this week's vote.
Chicago Bulls forward Luol Deng cast his vote alongside other excited Sudanese on Sunday in the historic referendum.
Deng arrived at the office-turned-polling station on Chicago's North Side to a hero's welcome, drawing cheers from the Sudanese waiting to vote when he briefly draped himself with a Southern Sudan flag. One man yelled in response, "Hey Lu, that's a good color on you, man!"
Deng, a native of Sudan who moved to London as a child to escape the conflict in his homeland, has encouraged his fellow countrymen to vote on the independence referendum over the past few months. On Sunday, the basketball player said all he wants is peace and happiness for his country, which has been at war for most of his life.
"A lot of people have fought for this day, a lot of lives have been lost over this and now we have a say," Deng said. "All we could do in the past is run. Now we're here today to show we're not running, we're here to make a difference."
Sudan votes
In Sudan, voters took to the polls, despite facing some hurdles.
Mahmud Abubakar waited in line twice. On Sunday he got in line at 8 a.m. but abandoned the effort at 1 p.m. On Monday he got in line at 7 a.m. and cast his ballot about four hours later.
Abubakar says southerners have suffered a long time and that he will vote for separation. Voting ends Saturday.
Residents of the central Abyei region were promised their own referendum on whether to join the north or the south but leaders could not agree on how to run the poll and the vote did not take place as planned on January 9.
Leading members of Abyei's Dinka Ngok tribe, linked with the south, accused Khartoum of arming the area's Arab Misseriya militias in clashes on Friday, Saturday and Sunday and said they were expecting more attacks in days to come.
South Sudan's army said the north was also backing renegade fighters involved in recent clashes in the southern oil-producing Unity state.
Attacks disrupt voting
U.S. President Barack Obama on Saturday specifically warned both northern and southern leaders not to use proxy forces over the voting period, highlighting international concerns that both sides might be resorting to tactics used in past campaigns.
The northern army's spokesman on Sunday denied any involvement in the clashes.
A U.N. source, speaking on condition of anonymity, told Reuters there were reports Misseriya fighters were re-grouping in the settlement of Golih Langar on Monday, 16 miles north of Abyei town, the headquarters of U.N. peacekeepers in the region and international aid groups.
"A large number of Misseriya attacked Maker village yesterday (Sunday), backed by government militia. It was the continuation of attacks on the 7th and the 8th. The first day one person died, the second day nine, yesterday 13. These are all residents of Maker," said Charles Abyei, speaker of the Abyei administration.
Southern army spokesman Philip Aguer said fighters captured after clashes with Galwak Gai's militia in Unity state on the eve of the vote said they had been sent from Khartoum.
"This is their last attempt to try to disrupt the voting process but they will not succeed," Aguer said.
Misseriya leader Mokhtar Babo Nimr told Reuters 13 of his men had died on Sunday's clash and accused southerners of starting the fighting.
"They attacked us because they don't want the Arabs to go south to water their herds but the cattle need water and they will go. If they continue to stop us going south this fighting will continue."msnbc
Photo: South Sudanese men wait to cast their votes at a polling station in Juba, Southern Sudan, Monday. The mainly Christian south is widely expected to secede from the mainly Muslim north, splitting Africa's largest country in two.