Most nations will recognize Palestinian state in 2011, FM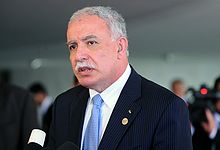 With nearly two years gone since direct peace talks between Israel and the Palestinians, journalists have been told this year will involve more nations recognizing the state of Palestine.
Some countries have already taking the step, with France and Spain now putting their cases to recognise the Palestinian state.
Palestinian Foreign Minister Riyad al-Malki said on Sunday that the majority of the international community would give recognition in 2011.
Speaking in the West Bank city of Ramallah, he said the European Union had already expressed its intention to recognize a Palestinian state by September, which would mark a year since direct peace talks stalled over continued Israeli settlement construction.
According to the Foreign Minister, Spain would be the first European country to announce its recognition of the Palestinian state, even if the European Union didn't take the decision.
Palestinian president Mahmud Abbas has said he will not negotiate further with the Israelis while settlements continue to be built on land the Palestinians want for their future state. Birmingham star