Clinton backs Lebanon tribunal in Hariri talks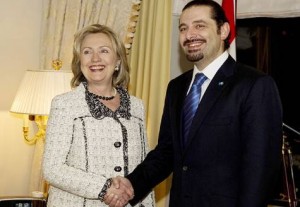 US Secretary of State Hillary Clinton voiced support for a U.N.-backed tribunal probing the killing of former Lebanese Prime Minister Rafik al-Hariri when she met his son, who is Lebanon's current premier, on Friday.
The government of Saad al-Hariri has been paralyzed for months by political tension over the investigation into the 2005 bombing that killed his father, a powerful Sunni Muslim politician.
Diplomats expect members of the Shi'ite militant group Hezbollah, which has ministers in Hariri's Cabinet, to be named in draft indictments that are likely to be sent to the pretrial judge at the Hague-based tribunal this month.
Hezbollah has denied any involvement in Rafik al-Hariri's killing. It has dismissed the five-year investigation into the bombing as politicized and urged Saad al-Hariri to denounce the tribunal — a demand he has so far resisted.
A source present at the half-hour meeting between Hariri and Clinton at a New York hotel said that "Secretary Clinton very clearly expressed her support for the Hariri tribunal." Asked if the Lebanese premier also supported it, the source said, "That goes without saying."
The source said Clinton also expressed strong support for the independence and sovereignty of Lebanon, a phrase often used to imply criticism of attempts by neighboring Syria to exert control over Lebanese affairs.
Clinton herself made no comment to reporters other than to praise her meeting with Hariri as "excellent."
Immediately before meeting the Lebanese leader, Clinton held a 45-minute meeting in an adjacent hotel with King Abdullah of Saudi Arabia, who had back surgery in New York last month.
No details of their talks were available, but Saudi Arabia and Syria, which have traditionally backed rival camps in Lebanon, have worked since July on proposals to try to ease tension over the tribunal.
Hariri was quoted on Friday as saying the joint Saudi and Syrian proposals do not include changes to his fragile unity government.
"Anyone who thinks that a government other than a national unity government can revive this country needs to think again," he told the pan-Arab newspaper al-Hayat. Reuters