Syria arrests smugglers and confiscates Lebanon made drugs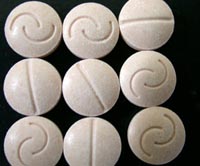 The Syrian authorities reportedly seized 4 million Captagon tablets inside the Syrian territories that was smuggled from Lebanon and destined to an Arab Gulf country, the Syrian Arab News Agency (SANA) reported . The tablets were reportedly made in Lebanon and the smugglers were arrested.
SANA, estimated the value of the confiscated Captagon tablets at about 300 million Syrian pounds ($6 million).
Syrian authorities said the perpetrators were arrested after they were preparing to smuggle the tablets by sea .
Captagon (Fenethylline) is most common in Arab countries. Many of the counterfeit "Captagon" tablets actually contain other amphetamine derivatives that are easier to produce, but are pressed and stamped to look like Captagon tablets.
The side-effects of this drug according to experts are: Damages brain cells, disrupts the normal heart rhythm, enlarges the veins in the body and could ultimately become fatal.
Just over a year ago about the same quantity of captagon was seized by the Dubai Police.