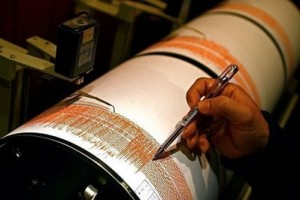 A magnitude-7.1 earthquake struck near Temuco in southern Chile, according to the U.S. Geological Survey. There were no immediate reports of injury or damage.
The temblor occurred about 3:20 p.m. New York time, 595 kilometers (370 miles) south-southwest of Santiago, the capital, the USGS said on its website.
The medium-intensity quake cut telephone and electricity lines, the government's emergency service, Onemi, said on its website. There were no immediate reports of infrastructure damage or injuries, Daniel Araya, an Onemi official, said by phone.
"A destructive Pacific-wide tsunami is not expected and there is no tsunami threat to Hawaii," the Pacific Tsunami Warning Center said today on its website. The Chilean Navy said the temblor doesn't have the characteristics to generate a tsunami, according to Onemi's website.
An 8.8-magnitude quake hit southern and central Chile on Feb. 27, killing more than 500 people and causing $30 billion in damage. An official at Codelco, who declined to be named because she isn't an authorized spokeswoman, said she had no immediate reports of any impact at the company's copper operations in central Chile. Patricia Silva, a spokeswoman for state-owned oil refiner Empresa Nacional del Petroleo, said the company's Bio Bio plant was running normally.
Public relations representatives at electricity generators Empresa Nacional de Electricidad SA and Colbun SA didn't respond to e-mailed requests for comment. Bloomberg