Harb: My draft bill is to prevent exodus of Christians -update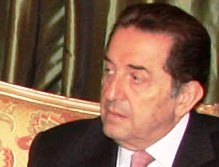 Lebanon Labor Minister Butros Harb defended on Friday his draft bill that calls for banning the sale of land between various Lebanese sects for 15 years.
"The real estate draft bill is reassure Lebanese Christians who believe there is a campaign to take over their property," said Harb in an interview on Friday with MTV
He added: " The bill prevents Christian exodus from their hometowns and preserves their mixing with the other communities," Harb said.
Harb said : "Those who oppose the bill without providing an alternative have a hand in the displacement of Christians," in a possible reference to MP Walid Jumblatt who described the bill as" insane" .
"Whoever has a better idea, let him present it." Harb said .
This comes after reports that Hezbollah has been using Iranian money to buy property in the Christian areas.
"It's a strategy. They have techniques of taking over the land bit by bit and then linking those bits," Jdeideh municipality council member Adel Elia said last November. "In the 1960s, the Christian community used to own 60% of the land in Lebanon. Now it's just 30%," he said.
Update: Salam criticizes the bill
" Minister of Labor Boutros Harb's bill is going to increase divisions between Lebanese," said Lebanon First bloc MP Tammam Salam in an interview on Friday.
"I ask Harb to withdraw the bill in order to preserve national unity," National News Agency (NNA) quoted him as saying.