Former Israeli President Moshe Katsav convicted of rape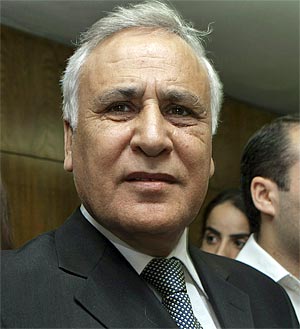 Former Israeli President Moshe Katsav was convicted Thursday of raping an aide and sexually harassing two other women, a verdict hailed as evidence of the nation's independent judiciary and a reminder that no one is above the law.
The case, one of the most serious ever brought against a high-ranking government official here, drove Katsav from office in 2007. Although the spectacle of a president being brought up on rape charges became a source of national embarrassment, many found solace in the judges' guilty verdict.
"It attests to the strength of Israel's democracy," prosecutor Ronit Amiel said after the court's ruling. "This day teaches us that world leaders and also presidents will be brought to court when needed, and that is a symbol of honor for the state of Israel."
Prime Minister Benjamin Netanyahu called it "a sad day for Israel" but praised the court's message "that all are equal before the law, and that every woman has exclusive rights to her body."
After the Tel Aviv court announced its decision, cheers erupted from women's rights organizations picketing outside.
Dana Pugach, attorney at the Noga Legal Center for Victims of Crime, said the decision reflected the court's confidence in the women, who Pugach said showed courage in making an accusation against a sitting president.
"It is their determination and perseverance that brought [us] to this day," Pugach said. "Beyond democracy, today's greatest achievement is the personal victory of three women."
The former president, 65, who has denied the charges, left without commenting.
Katsav's case was the most high-profile of a string of investigations in recent years targeting Israeli officials, most of them involving corruption allegations. The list includes every prime minister of the last 14 years, one other former president, two previous Jerusalem mayors and numerous Cabinet ministers.
Few actual indictments and still fewer long prison sentences have resulted from the investigations; many cases have been dropped.
Katsav was convicted of two counts of rape, as well as sexual harassment, a forced indecent act and disruption of trial. He was acquitted of only one charge, badgering a witness.
Judges dismissed his version of events as "unserious" and "riddled with lies."
The scandal first broke in July 2006 when the president — in an apparent attempt to defuse the matter — complained to the attorney-general that he was being blackmailed over a sensitive matter.
Eventually, government prosecutors focused their investigation on Katsav, particularly after additional women came forward with complaints of sexual assault and misconduct. The cases date to the period when Katsav served as tourism minister and continued into his tenure as president.
At one point in the prosecution, Katsav agreed to a plea bargain on lesser charges, but the former president backed out of the deal, saying he wanted to prove his innocence in court.
During the trial, Katsav supporters waged a campaign to discredit the women's stories, in one case presenting a love letter purportedly written by one of them. The three-judge panel dismissed the letters as attempts to smear the women, saying the defense presented its evidence in a "conniving, manipulative way."
The women's identities were kept confidential during the two-year trial, which was largely conducted outside the public eye.
Following the verdict, the former president turned over his passport and returned home, where his wife, Gila, had remained. He was accompanied in court by his brother and son.
His son, Ariel, told reporters that the family remains proud, saying, "Our father, Israel's eighth president, is innocent." The family says it will appeal.
Sentencing will be made at a later date. Rape usually carries a minimum sentence of four years and maximum of 16 years. Analysts noted that the rape in the president's case took place before Israel adopted a mandatory four-year sentence.
The other charges carry prison terms from two to 10 years. LAT