Lebanese paper dares to provoke
Ibrahim al-Amine, describes his newspaper's founding ambitions this way: "We wanted the U.S. ambassador to wake up in the morning, read it and get upset."

By ROBERT F. WORTH
Ibrahim al-Amine, the hawk-eyed editorial chairman of Al Akhbar, describes his newspaper's founding ambitions this way: "We wanted the U.S. ambassador to wake up in the morning, read it and get upset."
He succeeded. Earlier this month Al Akhbar became the only Arab newspaper to obtain its own substantial batch of WikiLeaks cables and gleefully cataloged various embarrassments to the region's kings, princes and politicians. Soon afterward, the paper's popular Web site came under a cyberattack that became a story in its own right, and provided more free publicity.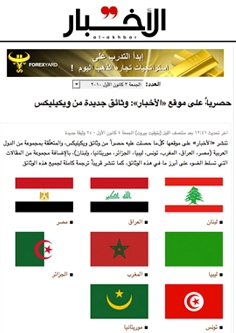 It was the latest coup for a five-year-old paper that has become the most dynamic and daring in Lebanon, and perhaps anywhere in the Arab world. In a region where the news media are still full of obsequious propaganda, Al Akhbar is now required reading, even for those who abhor its politics.
They are a remarkable blend: the paper champions gay rights, feminism and other leftist causes, even as it wholeheartedly supports Hezbollah, the Iranian-backed Shiite movement. Al Akhbar's access to Hezbollah allows it to scoop other papers on Lebanon's biggest continuing story, but it also publishes muckraking exposés on the abuse of domestic workers, prison overcrowding and other delicate subjects. Add splashy full-page color photos and witty tabloid-style headlines, and you have an alluring product.
"Our project is basically anti-imperialism," said Khaled Saghieh, Al Akhbar's mild and cerebral managing editor, who abandoned a Ph.D. in political science at the University of Massachusetts, Amherst, to help start the paper. That insurrectionary theme, he said, links the paper's resistance to neoliberal economic policies and its support for Hezbollah's fight against Israel. There are plenty of disagreements with Hezbollah, whose members regularly call to complain about articles — though not in any official capacity. But the Shiite group's leaders appear to recognize the importance of maintaining alliances across Lebanon's complex sectarian and political landscape.
Al Akhbar has sometimes criticized Hezbollah in print (though mildly), and Mr. Saghieh himself — who writes a regular column — has written excoriating critiques of Hezbollah's chief Christian ally, the party of Michel Aoun, a former general.
The paper suffers from many of the same flaws as the mainstream Arab press: too much reliance on single sources, and news pages that often show a loose mingling of fact, rumor and opinion.
Still, it is refreshingly free of the slavish headlines that are so common across the Middle East: the king's visit to the airport, the president's trip to the mosque. Even the pan-Arab press, largely owned by Saudi Arabia, is seriously constrained in what it can say. Lebanon has long had the most freewheeling news media in the region, but its outlets are often vehicles for their owners, usually political bosses or businessmen with a sectarian ax to grind. Reporters are often pawns in this game: Rafik Hariri, the billionaire former prime minister who was assassinated in 2005, used to send around envelopes of cash to his favorites.
Al Akhbar wanted to break free of that formula. Its founding editor, a revered left-wing journalist named Joseph Samaha, found a London-based investment banker to underwrite the venture in 2006 while promising not to interfere with editorial content. Mr. Samaha envisioned a paper with a strong political commitment but no attachments to any particular party, and a refusal to be constrained by anyone.
"We are going to show that you can make a profitable paper without bowing to any government," said Hassan Khalil, the banker, who is the paper's chief owner, in a telephone call from London. "We wanted to make something new: a truly independent newspaper." The paper broke even last year, Mr. Khalil said.
The handful of other owners include members of the staff. The paper receives no support from Iran, Syria or Hezbollah, Mr. Khalil said, despite accusations from its ideological foes that began even before the paper started printing.
Al Akhbar's print circulation is dismally low, 10,000 to 15,000, though comparable to circulations at Lebanon's other leading papers. The industry is fading here, as everywhere. But Al Akhbar's Web site is by far the most popular of any Lebanese newspaper's, and its editors see a broader audience for their product. They are starting an English-language version, set for introduction early next year.
Critics say the paper's protestations of editorial freedom ring a little hollow, given that it operates under the tacit protection of Hezbollah, Lebanon's most potent military force. It was reporters on the other side of the political fence, many Lebanese say, who took the greatest risks for their views in recent years, and paid the price. Samir Kassir and Gebran Tueni, critics of Syria and Hezbollah who worked for the older and more pro-American newspaper An Nahar, were both killed by car bombs in 2005.
But there is a youthful energy and conviction at Al Akhbar that is lacking at many other papers. The offices, on the sixth floor of a West Beirut office building, above a supermarket, have more of the feel of a college newspaper than a major daily. The staff members are mostly in their 20s and 30s, and seem to see the place as a kind of alternative family. There are pictures everywhere of Mr. Samaha, whose death from a heart attack in 2007 — less than six months after the paper's founding — was a serious blow.
"Joseph was our father, our friend, our drinking partner," said Omar Nashabe, editor of Al Akhbar's crusading Justice page.
Like several of the editors, Mr. Nashabe is fully conversant with American culture; he earned a Ph.D. in criminal justice from the State University of New York, Albany, before joining the paper. He is responsible for some of the paper's most socially liberal columns, and talks excitedly about the need for new laws to defend foreign laborers and women's sexual rights. He brushes off the angry letters and phone calls he gets from social conservatives, including some in Hezbollah.
But no one apologizes for Al Akhbar's vehement support for "the resistance," as Hezbollah's armed forces are known here. A portrait of Imad Mughniyeh, the legendary Hezbollah commando who was assassinated in 2008, hangs in the office of Mr. Amine, the chairman of the board.
"Our Che," Mr. Amine says, as he leads a visitor into his office and proudly displays the portrait. After Mr. Mughniyeh was killed in Damascus, Syria, Al Akhbar published an amazing scoop: a personal interview with Mr. Mughniyeh, done months earlier and written by Mr. Amine, who was a personal friend.
If Mr. Saghieh and Mr. Nashabe are the paper's Western-friendly faces, Mr. Amine is its hard-line bulldog, a grizzled Marxist whose columns are widely viewed as telegraphs from the Hezbollah leadership (or parts of it). He offers his visitors tea, then reels off some of his own fondest hopes: to replace the oppressive governments of the Arab world, redraw the colonial-era borders, remove Israel from the map and send the Jews back to Europe — they would be more comfortable, after all, in a capitalist environment.
"I hope I haven't provoked you," he says at last, somehow managing to avoid a smirk. NYT