March 14 official calls for an initiative before STL indictment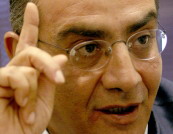 "Lebanese leaders have about two weeks to create a safety net that will protect Lebanon,"
March 14 General Secretariat coordinator Fares Soueid told LBC TV on Sunday adding that the country is now waiting for the Special Tribunal for Lebanon (STL) indictment.
Soueid that Hezbollah is hiding behind the Shiite sect under the excuse that if "Hezbollah is being targeted, then the whole sect is being targeted."
Commenting on arch 14's relations with Progressive Socialist Party leader MP Walid Jumblatt
he said :" The PSP leader did something big in Lebanon by playing a major role in Syria's withdrawal from the country in 2005′ . Soueid added that Jumblatt and Speaker Nabih Berri can play a bigger role in the current situation "instead of always talking about the Saudi-Syrian initiative."
Saudi and Syrian officials have reportedly been working on a compromise deal to reduce the tension in Lebanon.
" I urge ( president Michel Suleiman) , Jumblatt and Berri and religious authorities to come up with a "national initiative to prevent possible conflicts following the issuance of the indictment." He said
Soueid predicted that the indictment that will be issued by the Special Tribunal for Lebanon would be an event as massive as the assassination of former PM Rafik Hariri's , he warned that both the March 8 and 14 alliances would disappear if politicians do not find "ways to confront" the legal decision through an initiative.
"After the indictment there will be a team of assassins and a team of victims," he warned.