Russia to buy two warships from France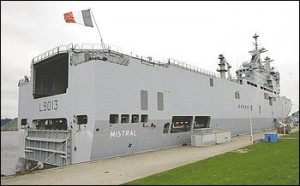 After a long hesitation and arduous negotiations, Russia has decided to buy at least two of France's advanced Mistral-class amphibious warships in an unprecedented military deal between Moscow and the West, the two nations said Friday.
The multimillion-dollar sale, announced jointly by the Elysee Palace and the Kremlin, marks the first time in modern history that Russia has made such a major defense acquisition abroad, illuminating a fast-evolving relationship with former Cold War enemies. The swift changes were dramatized at last month's NATO summit in Lisbon, when President Dmitry Medvedev agreed to work with NATO on ways to cooperate with the U.S.-led alliance in erecting a missile defense system for Europe.
The Mistral sale, whose financial terms were not disclosed, also signaled a triumph for French President Nicolas Sarkozy's relentless salesmanship and a boost for France's sagging defense industry and 10 percent unemployment rate. It will, the Elysee declaration noted, provide the equivalent of 5 million hours of work over four years for 1,000 qualified French employees at the STX shipyards at St. Nazaire on the Atlantic Coast. And it might lead to the purchase of two more vessels.
"Presidents Medvedev and Sarkozy hail the concretization of this unprecedented cooperation, which will benefit industry and employment in our two countries, and which illustrates the will and capacity in France and Russia to develop large-scale partnerships in all areas, including defense and security," the Elysee said.
The sale was strongly opposed in Georgia, whose leaders said it would be interpreted as a benediction of Russia's role there during a brief war in the summer of 2008 and the stationing of Russian troops on territory still considered part of Georgia by NATO nations, including France.
Six Republican U.S. senators objected to the proposed sale a year ago, arguing it would suggest that France approved of Russian actions in Georgia, which they said are aggressive and illegal and violate a cease-fire negotiated by Sarkozy himself.
But the Obama administration has been publicly silent on the sale. At the Lisbon summit, President Obama noted that Russia was no longer NATO's enemy but its partner, despite the differences over Georgia.
In any case, the news, in a Christmas Eve telephone call from Medvedev to Sarkozy, was particularly welcome here in light of an embarrassing setback recently in France's efforts to sell its Rafale multi-role warplane. So far, only the French military has bought the delta-winged jet, despite aggressive marketing by Sarkozy in Europe and the Middle East. The lack of buyers raises questions about whether the country can continue a nationally based military aviation industry.
During a visit to Brazil last year, Sarkozy declared confidently that President Luiz Inacio Lula da Silva had made the political decision to buy the Rafale as soon as technical and financial details were ironed out among military specialists. But the approval never came. Lula, who leaves office next week, said recently that he was turning the file over to his successor, in effect reopening the competition for what promises to be a lucrative multiplane contract.
The 600-foot ship – a boxy helicopter carrier, command center and hospital – was designed for power projection and landing operations, which Russian naval officers said would have made it perfect for the Georgia operation in 2008.
In public discussion of the talks with Russia, the 23,700-ton vessel has been estimated to cost $750 million a copy.
But French officials have said the ship's most advanced electronic equipment will not be included in the package negotiated with Moscow. In addition, Russian defense officials insisted on having large parts of the construction done in Russian shipyards. The division of labor ultimately agreed upon was not disclosed. WP