Pope urges peace in the Middle East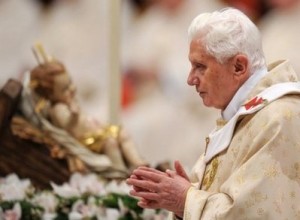 In his traditional Christmas message delivered Saturday to crowds braving winter's chill, Pope Benedict XVI urged peace in the Middle East and asked for God's comfort upon beleaguered Christian communities in Iraq and elsewhere in the region.
The annual "To the City and the World address, known in Latin as "Urbi et Orbi," mentioned other global hot spots.
The pope wished for security in places overcome by conflict like Somalia, Sudan's Darfur region, Ivory Coast, Afghanistan and the Korean peninsula and those nations like Haiti that are grappling with the consequences of disease and natural disaster.
"May the light of Christmas shine forth anew in the Land where Jesus was born, and inspire Israelis and Palestinians to strive for a just and peaceful coexistence," Benedict said in the speech delivered in 64 languages, from English and Latin to Maori and Maltese.
"May the comforting message of the coming of Emmanuel ease the pain and bring consolation amid their trials to the beloved Christian communities in Iraq and throughout the Middle East," he said.
Violence targeting Christians in Iraq in recent months forced some Iraqi churches to tone down Christmas observances, even canceling Christmas Mass. Many fear an exodus of Christians from that part of the world.
In his message of hope, Benedict also prayed for the perseverance of Christians in communist China.
"May the birth of the Saviour strengthen the spirit of faith, patience and courage of the faithful of the Church in mainland China, that they may not lose heart through the limitations imposed on their freedom of religion and conscience but, persevering in fidelity to Christ and his Church, may keep alive the flame of hope," he said.
Tens of thousands of people clutched umbrellas under drizzle and rain to hear the 83-year-old pontiff at St. Peter's Square in Vatican City.
"May the birth of the Saviour open horizons of lasting peace and authentic progress for the peoples of Somalia, Darfur and Cote d'Ivoire (Ivory Coast); may it promote political and social stability in Madagascar; may it bring security and respect for human rights in Afghanistan and in Pakistan; may it encourage dialogue between Nicaragua and Costa Rica; and may it advance reconciliation on the Korean peninsula," he said.
This year's Christmas festivities appeared uneventful compared to last year when a woman jumped a barrier and lunged at the pope during Christmas Eve Mass.
Benedict was quickly helped to his feet by his aides and not injured in the incident. The service resumed as the woman was detained by Vatican police and taken to a mental institution.CNN