Bkirki is the focal point on Christmas day in Lebanon
As the Christians in Lebanon celebrate Christmas the focal point today is Bkirki the headquarters of f the patriarchate and the winter residence of Maronite Patriarch Nasrallah Boutros Sfeir.
Sfeir has been receiving well wishers since this morning .
He has already received:
– MP Walid Jumbaltt, who told reporters that he is comfortable with the current situation in Lebanon.
– Lebanese Forces MP Strida Geagea who has just returned from a trip to Saudi Arabia commented the following when asked about the Saudi-Syrian peace initiative for Lebanon
"We are on holiday and so is the S-S initiative."
Asked to respond to Jumblatt's earlier statement that the Christians of Lebanon reject moderate Christian leaders and instead follow leaders like ( former Lebanese president and Phalange party leader) Amin Gemayel, ( Lebanese Forces leader) Samir Geagea and ( former Lebanese president elect ) Bachir Gemayel. She said : "Was there moderation in Walid Bek's behavior during the past 5 years ?"…." Moderation as described by Jumblatt is not moderation for us "and added "we at the Lebanese Forces have taken a decision not to respond to Walid Bek ( Jumblatt) out of respect for the highly regarded Druze community. "
– President Michel Suleiman who said after a closed-door meeting with Sfeir:" Lebanon will be better in 2011."
Suleiman arrived in Bkirki accompanied by Interior Minister Ziad Baroud where they were met by Maronite Patriarch Nasrallah Sfeir before the Christmas mass.
Addressing Suleiman during the Christmas mass Sfeir said: " Let Lebanon remain the country of coexistence between Christians and Muslims through your efforts and under your wise guidance."
Several Lebanese leaders attended the mass. As expected Free patriotic Movement leader MP Michel Aoun was not there.
Sfeir has reportedly also received calls from well wishers from all over the world.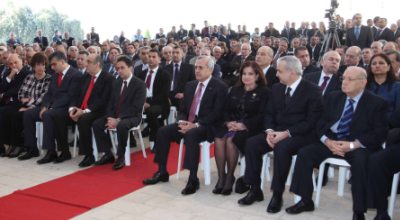 Merry Christmas from all of us at Ya Libnan