Bus disaster kills 41 Ecuadorians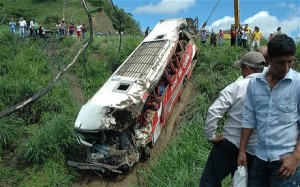 The death toll of 41 was expected to rise as another 30 people were injured, some of the seriously. Seven children and 13 women were among the dead.
The bus had been heading from the capital Quito to the eastern towns of Chone and San Isidro, a trip of about 180 miles (250 kilometres), when the horrific accident happened.
Diego Iniguez, a local police chief, said the bus appeared to have experienced a gearbox problem before the driver lost control.
The vehicle careened off the road, rolled over for about 200 yards, struck a tree and then smashed into the ravine, officials said.
A woman at the front of the bus started screaming that the driver "can't shift gears," one survivor said. Another survivor recounted hearing grinding as the driver attempted to reduce gears as he descended the highway. telegraph.uk