Assad awarded Order of Merit to Lebanese Poet Joseph Harb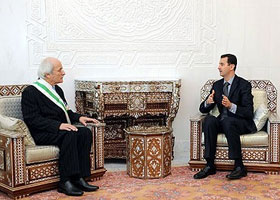 President Bashar al-Assad on Wednesday awarded the Syrian Order of Merit of Excellent Degree to the great Lebanese Poet Joseph Harb for his national stances and creative writings.
President al-Assad stressed that man's work serving the interests of his nation is the real award, telling Harb that he deserved the Order of Merit for the national and pan-Arab approach he follows and his works of literature.
President al-Assad and Poet Harb discussed the situation in the region over the past ten years which proved that the real intellectual adheres to his nation's issues and proved that commitment to the national, political, cultural and social approach is the only guarantee for the Arab nation's survival and prosperity.
In a statement following the meeting, Poet Harb said the president's generous gesture adds to his sense of responsibility for Arabism, national belonging and his national role in the field of freedom, right and thought.
He added that Syria as Lebanon is "the home town" for his literary works seeking to achieve a better future for the motherland and defending the nation's issues and rights.
Editor in Chief of al-Safir of the pro-Syrian newspaper, Talal Salman thanked President al-Assad for this gesture towards Joseph Harb, saying that it represents remarkable gift from a resistant leader to a poet whose love for his land and whose faith in its people took him towards the resistance.
"Joseph Harb deserves this honoring from President al-Assad, as he is the nation's poet," Salman added.
In a similar statement, Secretary General of the Lebanese Writers Syndicate, Suleiman Taqiddin said that this honoring from a symbol of Arabism affirms that the nation appreciates its thinkers and gives them the honor they deserve, which greatly contributes to supporting patriotic and free thinkers and motivates them to adhere further to that course.
"This noble gesture from President al-Assad towards culture, intellectuals, people with stances and people with causes deserves all appreciation to a remarkable president full of dignity," Taqiddin said, stressing that this honoring is directed at what Joseph Harb represents in Arab culture.
Since the 1960s, the poet Joseph Harb dedicated his life and thoughts as a writer and Secretary General of the Lebanese Writers Syndicate to defending and supporting Arab causes, from Palestine to Lebanon to Iraq.
Harb also dedicated himself to bolstering the course of resistance against aggression and occupation, reclaiming usurped rights, and rejecting subservience and surrender.
Joseph Harb, who is considered one of Lebanon's most prominent contemporary poets, is known for his firm, brave stance that adheres to rights, freedom and Arab affiliation. He is also a staunch defender of Arabism as an identity, an affiliation and a civilization, showing his commitment to issues of freedom, justice, enlightenment and rallying the nations' forces towards progress and freedom.
He wrote and published his first Diwan (poetry book) when he was 17 years old. He and his friend Ziad Rahbani worked on a number of songs which Fairuz has performed ( "Belayl we Chiti", "Wahdon"). Harb also wrote poems which the late Philemon Wehbe composed and Fairuz also sang.
Joseph Harb has also written a number of television series. DP