STL official stressed importance of presumption of innocence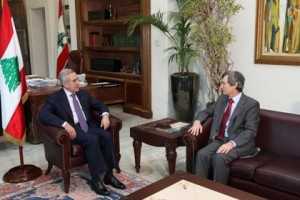 Special Tribunal for Lebanon's head of Defense Office François Roux and his Deputy, Alia Aoun, concluded their four-day visit to Lebanon where they met with President Michel Suleiman, Prime Minister Saad Hariri, Justice Minister Ibrahim Najjar, Interior Minister Ziad Baroud and other senior officials, according to an STL statement issued on Monday.
According to the statement Roux "stressed the importance of the presumption of innocence in all criminal proceedings."
" Roux noted that when the Prosecutor (Danielle Bellemare) submits the (draft) indictment to the Pre-Trial Judge Daniel Fransen, the proceedings will enter a new phase that will either result in a confirmation or a dismissal of one or more counts in the indictment," the STL statement added.
He said that proceedings will enter a new phase that will either result in a confirmation or a dismissal of one or more counts in the indictment when STL Prosecutor Daniel Bellemare submits it to Pre-Trial Judge Daniel Fransen.
"During this phase, the content of the indictment will remain confidential." The statement said adding : "This preserves the presumption of innocence and avoids disclosing the names of persons that might not be accused at all ", the Roux was quoted as saying.
Tension escalated in Lebanon following reports that the Special Tribunal for Lebanon will soon issue its indictment into the 2005 assassination of Lebanon's former Prime Minister Rafik Hariri. Last July, the Hezbollah chief Sayyed Hassan Nasrallah said that the tribunal is "an Israeli project" that will indict Hezbollah members. Nasrallah accused Israel of being behind Hariri's assassination but refused to provide the evidence to STL to support his claim. Hezbollah and its March 8 allies have been calling for the abolition of STL.
Hezbollah has spearheaded several campaigns with the aim of discrediting STL. On Monday Iran's supreme leader Ayatollah Ali Khamenei joined Hezbollah's campaign against the Special Tribunal for Lebanon . He announced after a meeting with the emir of Qatar, Sheikh Hamad bin Khalifa Al-Thani that any indictment handed down by a U.N.-backed court looking into the 2005 killing of former Lebanese Prime Minister Rafik Hariri will be "null and void."
Some leaders are concerned that should the court indict Hezbollah members, it could lead to a Sunni Shitte strife
The Pro Syrian Al Akhbar newspaper reported earlier in the month that Hezbollah has prepared a plan to take over Lebanon when STL issues its indictment for the 2005 murder of the late Prime Minister Rafik Hariri.
Free Patriotic Movement leader MP Michel Aoun , (a close ally of Hezbollah ) said on November 18 that Hezbollah might violently respond to an STL indictment that accuses Hezbollah party's members in Hariri's assassination.
On December 7 a leading Israeli Military Intelligence official expressed concerns that Hezbollah might seize control of Lebanese government institutions .
"Dozens will be killed when Hezbollah uses force and takes over government institutions," senior Military Intelligence official Colonel Yossi Adler told the Knesset in 'a possible scenario if Hezbollah is indicted by STL.'
March 8 politicians have called for the cabinet to task the Justice Council with investigating the so called false witnesses who reportedly gave unreliable testimonies to the international probe into the 2005 assassination of former PM Rafik Hariri. However, March 14 politicians believe that the regular judiciary should handle the matter.
Chairman of the Judicial and Administration Parliamentary Committee MP Robert Ghanem during an interview with "Arab week" and "Magazine" on Thursday explained the issue of false witnesses :
" Article 408 and some other articles of the Lebanese Penal Code define the false witness as the person who testifies to the judicial authorities and provides contradictory testimony , but the testimony before the security forces or law enforcement authorities ( not in front of a judge ) is considered a false testimony".
Iranian