Violence flares in Ivory Coast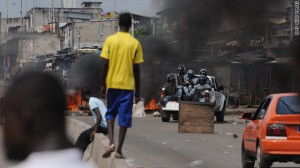 Explosions and gunfire were heard Thursday in the capital of the Ivory Coast, which has been gripped by a political stalemate since a recent disputed presidential election.
Heavy gunfire was heard outside a hotel that is serving as the headquarters of Alassane Ouattara, a former economist and prime minister who ran for president in November against incumbent President Laurent Gbagbo,
The country's Independent Electoral Commission said Ouattara won, but the country's Constitutional Council invalidated those results and declared Gbagbo the winner.
The country has been in a political stalemate ever since.
After the gunfire and explosions on Thursday, many streets in the capital of Abidjan were empty. At least one injured person lay on the ground.
The United Nations, African Union, European Union and other international bodies and leaders have called on Gbagbo to step down, but he has declined to do that.
On Wednesday, U.N. Secretary General Ban Ki-moon warned that the stalemate could lead to renewed fighting in a country that was wracked by civil war for several years.
"The situation is taking a worrying turn with unfolding events that could lead to widespread violence," Ban said in a statement Wednesday.
The developments include the recent threats by some commanders of the national security forces to resort to military options and clashes on Monday between security forces and ex-rebels supporting the internationally recognized winner of the election. CNN