Hezbollah chief renewed attack against Lebanon tribunal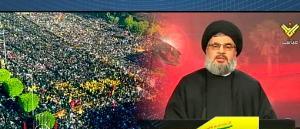 Hezbollah Secretary General Sayyed Hassan Nasrallah renewed his attack against The Special Tribunal for Lebanon (STL) and predicted on Thursday morning that it will vanish with the wind like other conspiracies before it.
Nasrallah made the predictions during a televised speech via video link as the Shiite Muslims were gathering throughout Lebanon to observe the Day of Ashura.
The Special Tribunal for Lebanon was created by the United Nations Security Council in 2007 , at the request of the Government of Lebanon to investigate the 2005 assassination of former Prime Minister Rafik Hariri.
"We reject any unjust accusation. We will overthrow the goals of this accusation as we have already overthrown part of it, and we will protect the Resistance and our country." Nasrallah said
"We affirm our commitment to Lebanon and our national unity and declare our rejection of any strife among the Lebanese, especially between Sunni and Shia," he declared
Tens of thousands of Hezbollah supporters lined the streets of Beirut's southern suburbs, holding pictures of Nasrallah and Iran's supreme leader Ayatollah Ali Khamenei.
"We learned from Imam Hussein at Karbala to hold fast to the truth and not abandon it .
He said
Nasrallah vowed not to recognize Israel and not to give up an inch of Lebanese land.
"Israeli threats will not terrorize us," he said, adding: "The resistance will defeat you (Israel) in the coming days."
"No one has the authority to concede a single grain of soil, nor a drop of water, nor any part of our holy places," Nasrallah also said.
"We will not recognize Israel and we will not abandon a single inch of our land." He added
Last night , Nasrallah talked about 2 subjects: Israel and the Special Tribunal for Lebanon
He declared that the Greater Israel project is finished.
On the subject of the Special Tribunal for Lebanon and the so called false witnesses he proposed to the March 14 alliance to leave this matter alone for Hezbollah to handle directly with the tribunal.
Tension escalated in Lebanon following reports that the Special Tribunal for Lebanon will soon issue its indictment into the 2005 assassination of Lebanon's former Prime Minister Rafik Hariri. Last July, the Hezbollah chief Sayyed Hassan Nasrallah said that the tribunal is "an Israeli project" that will indict Hezbollah members. Nasrallah accused Israel of being behind Hariri's assassination but refused to provide the evidence to STL to support his claim. Hezbollah and its March 8 allies have been calling for the abolition of STL.
Some leaders are concerned that should the court indict Hezbollah members, it could lead to a repeat of the My 2008 incident when Hezbollah gunmen occupied west Beirut and tried but failed to occupy Mt Lebanon, resulting in the killing of over one hundred Lebanese.
The Pro Syrian Al Akhbar newspaper reported earlier in the month that Hezbollah has prepared a plan to take over Lebanon when STL issues its indictment for the 2005 murder of the late Prime Minister Rafik Hariri.
Free Patriotic Movement leader MP Michel Aoun , (a close ally of Hezbollah ) said on November 18 that Hezbollah might violently respond to an STL indictment that accuses Hezbollah party's members in Hariri's assassination.
On December 7 a leading Israeli Military Intelligence official expressed concerns that Hezbollah might seize control of Lebanese government institutions .
"Dozens will be killed when Hezbollah uses force and takes over government institutions," senior Military Intelligence official Colonel Yossi Adler told the Knesset in 'a possible scenario if Hezbollah is indicted by STL.'
March 8 politicians have called for the cabinet to task the Justice Council with investigating the issue of ( so called false ) witnesses who reportedly gave unreliable testimonies to the international probe into the 2005 assassination of former PM Rafik Hariri. However, March 14 politicians believe that the regular judiciary should handle the matter.