Iraqi shoe attacker signs his first book in Beirut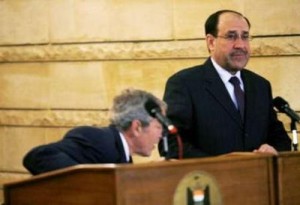 The Iraqi journalist who threw his shoes at former President George W. Bush said Tuesday he is suing Iraq's prime minister for his detention and alleged torture during the nine months he spent in custody.
Muntadhar al-Zeidi spoke during the signing in Beirut of his first book, entitled "The Last Salute to President Bush."
The book is a journal chronicling the moments leading up to the now infamous Baghdad press conference on Dec. 14, 2008, at which al-Zeidi shot to fame by hurling his shoes at Bush and calling him a dog.
The signing was timed to coincide with the second anniversary of the shoe throwing incident, which became one of the iconic images of the Iraq war.
In the book, he recalls the revulsion he felt when he saw Bush at the joint Baghdad press conference with Prime Minister Nouri al-Maliki.
"In these moments, everything I had seen and heard about the massacres against Iraqis this man had committed came to my mind … and I felt a thunder in my body," he wrote of the moments leading up to his act.
Minutes later, he shot up from his chair, threw his shoes toward Bush at the podium and shouted, "This is your farewell kiss, you dog!"
Al-Zeidi was arrested and convicted of assault. He spent nine months in prison, including three in solitary confinement. He told The Associated Press Tuesday that he was beaten and electrocuted for three days by interrogators, some of them related to al-Maliki.
He is now suing al-Maliki in a Swiss court and said he expects an arrest warrant to be issued in the next few days.
"What I did that day was my duty as a journalist, for all the Iraqi people," he said.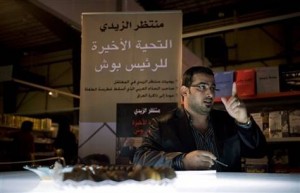 Al-Zeidi, who now lives in Beirut and works as a consultant for a Lebanese satellite TV channel, said all profits from his book will go to a charity foundation he has set up for Iraqis who suffered from U.S. occupation.
The book was published in Arabic by All Prints Distributors and Publishers, a Lebanese publishing house. AP