Attacks target Shi'ite pilgrims in Iraq ahead of Ashura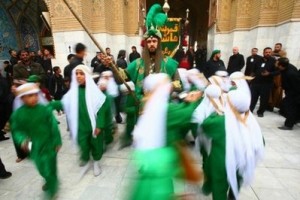 Two roadside bombs targeting Shi'ite pilgrims in Iraq killed three people and wounded at least 32 others on Tuesday ahead of a Shi'ite religious event, Interior Ministry and police sources said.
One of the blasts struck a Shi'ite procession in the Ghazaliya district of western Baghdad, killing three and wounding 18, the interior ministry source said.
A police source put the toll at three dead and 19 wounded.
The other bomb exploded near a procession in the town of Khalis, 80 km (50 miles) north of Baghdad, and wounded 14, the Diyala province security operations centre said.
Attacks against Shi'ites have been rising ahead of the religious event of Ashura on Friday. Ashura commemorates the death of Prophet Mohammad's grandson Hussein at the battle of Kerbala in 680 and defines Shi'ism and its rift with Sunni Islam.
On Monday, four people were killed and 17 wounded by a suicide bomber who blew himself up near a group of Shi'ite pilgrims in a town northeast of Baghdad, whilst earlier this month, a series of explosions — two of them targeting Iranian pilgrims — killed a total of 13 people and wounded at least 80.
Attacks and bombings remain a daily occurrence in Iraq, although overall violence has dropped from the height of sectarian warfare in 2006-07. Reuters
Photo: Shi'ite Muslims act the story of Imam Hussein in an Ashura ritual in the shrine city of Karbala in central Iraq on Tuesday. A roadside bomb ripped through a Shiite procession marking the Ashura rituals in west Baghdad, killing three worshippers, an interior ministry official said