A wanted man found dead near Syrian border
Mahmoud Mohammed Ajjaj, 30, was found dead on Tuesday with several gunshot wounds in a location near the sugar factory in Majdal Anjar, near the Syrian border.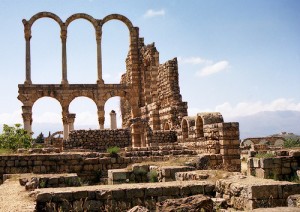 Ajjaj was wanted on charges of murdering Lebanese Lt. Col. Abdo Jasser and Adjutant Ziad al-Mais on October 21.
Jasser was the chief Lebanese intelligence officer at the al Masnaa crossing
Investigations headed to scene to identify the circumstances as the army and the Internal Security Forces encircled the area. The body of Ajjaj was taken to the Elias Hrawi hospital in Zahle
The eastern Bekaa Valley has historically been known as a safe haven for fugitives.
Last April, three Lebanese soldiers were also killed in an ambush
Photo: Anjar is known for its 8th century ruins of the Umayyad dynasty. This was one of the region's only examples of a covered shopping mall . The city ruins cover an area of 114,000 square meters ( 1, 227, 085 square Ft) and are surrounded by large, fortified stone walls, over two meters thick ( 6.6 Ft) and seven meters high (23 ft) .