Sfeir: People have a right to know the truth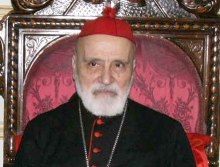 Maronite Patriarch Nasrallah Sfeir expressed surprise at threats unleashed by Hezbollah
"The country cannot carry on under this escalating climate where one (political) camp threatens the other," Sfeir told al-Mustaqbal newspaper in remarks published Tuesday, in reference to threats made by Hezbollah MP Mohammed Raad, without naming him.
"The country continues to exist on the basis of coexistence , understanding, cooperation and harmony among the people and power sharing," he said
"People have a right to know the truth of who is behind those assassinations," Sfeir insisted in reference to the Special Tribunal for Lebanon.
The Special Tribunal for Lebanon (STL) , a body created by the United Nations Security Council in 2007 , at the request of the Government of Lebanon to investigate the 2005 assassination of former Prime Minister Rafik Hariri, has announced that it may issue indictments in the case by the end of 2010. Some Lebanese political leaders have warned publicly that the Tribunal's findings could spark civil unrest or other violence.
Last Saturday Hezbollah escalated its attacks against the special Tribunal for Lebanon. Raad said that Hezbollah is stronger than the attempted plots targeting it and that "everyone must bear the results if STL 's indictment is issued without a compromise."
Raad's statements are dangerous and should be retracted immediately, March 14 MP Okab Sakr said in an interview with Saudi newspaper As-Sharq Al-Awsat last weekend.
Another Hezbollah MP Hasan Fadlallah said last Saturday : " We know how to protect our Resistance, how to defend it and how to face these conspiracies that are being plotted against our country. Those who are conspiring against Lebanon and the Resistance are the ones who have to worry."
Former minister Wiam Wahhab a staunch ally of Syria and Hezbollah told New TV last Saturday that Prime Minister Saad Hariri will not remain the country's PM if he continues to support the Special Tribunal for Lebanon .